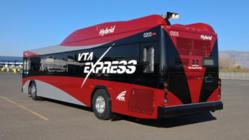 "We anticipate that the Vanner HBA will help add to The improved fuel mileage we've been seeing with our Allison hybrid systems because of the lower power impact on the engine.
Hilliard, OH (PRWEB) March 20, 2012
The Santa Clara Valley Transportation Authority (VTA) offers new, hybrid buses with luxury features and free Wi-Fi for express travel through the Silicon Valley. Passengers can now work on their laptops while getting to the office about as fast as they would driving. These hybrid buses, manufactured by Gillig, utilize Vanner Hybrid Beltless Alternator (HBA) technology.
"Vanner has been a dependable supplier to the transit industry for many years, and VTA is confident that the HBA will live up to our expectations," said Jim Wilhelm, Senior Mechanical Engineer for VTA's buses. "We anticipate that the Vanner HBA will help add to the improved fuel mileage we've been seeing with our Allison hybrid systems because of the lower power impact on the engine. We also expect that its durability will be significantly superior to the alternators we have used in the past."
VTA rolled out 10 buses in early January and another 10 recently. They are easy to spot, as they are candy-apple red and silver, with "VTA Express" and "Hybrid" written on each side. VTA is taking a cue from Yahoo, Google, Cisco and Apple, Silicon Valley titans that contract with private bus lines to ferry workers to their campuses in plush, worker-friendly buses.
"So many people have told us they are willing to take an express bus if there was Wi-Fi and more comfortable seating," said Ken Yeager, chairman of the Valley Transportation Authority board. "We're doing it now, and we're hoping this increases overall ridership levels."
Gillig LLC, one of the nation's largest transit bus manufacturers, provides the Vanner Hybrid Beltless Alternator (HBA) as standard equipment on their hybrid buses.
"The Vanner HBA allows our customers to take the next step towards bus electrification by providing a clean, stable power source to operate many of the auxiliary systems on the bus that would traditionally have been powered by an engine driven belt," said Sam Enochian Director, National Sales, Gillig LLC.
The Vanner HBA replaces the alternator and the associated pulleys and belts and provides full power at curb idle and delivers power that exceeds conventional alternators through 85% of the drive cycle. Testing of the HBA also indicates fuel savings and reduced stress on the engine, which can lead to longer engine life.
"Our Hybrid Beltless Alternator is now the preferred and proven technology to power the 12 and 24 volt loads in a hybrid transit bus," said Chris Collet, VP Bus and Hybrid Markets, Vanner Inc.  
"Not only is it more electrically efficient, but significantly reduces the stress on the bus' storage batteries. It is also a great enabler for electric radiator cooling fans and is a major step in hybrid bus electrification."
Gillig, founded in San Francisco, California in 1890, still builds American-made heavy-duty transit buses known as reliable, durable, and economical. Gillig is the second largest producer of transit buses in North America and produces approximately 1,300 buses per year, for hundreds of different customers, from Alaska to Florida.
Vanner, a leader in commercial vehicle power management systems since 1977, develops power management solutions for transit and coach buses, ambulances, trucks, mobile office and military vehicles. Vanner continues to solve operational, fuel efficiency and emission challenges for commercial transportation with renowned engineering and innovation and road-tested, rugged, reliable and safe products.
For more information, please visit Vanner Inc. at http://www.vanner.com or call 800-227-6937.