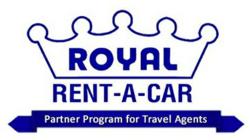 The Partner Program makes it easy for Travel Agents to create reservations in Miami and Fort Lauderdale. The more you sell, the more you make!
Miami, FL (PRWEB) March 21, 2012
Travel Agents have never had it so easy, now with the introduction of the Royal Rent-A-Car Partner Program designed specifically for them in mind. This new program extends powerful selling tools to Travel Agents looking to book car rentals in Miami and Fort Lauderdale, while being compensated not only for time and mileage, but rental options as well.
The process couldn't be any easier. All registered agencies will be provided a unique code that identifies them in the reservation system. This code must be provided at the beginning of the reservation process in order to inform the system of the registered travel agent. The system will then identify the agency and provide the following benefits:

Travel Agent Branded Interface
Travel Agent Time & Mileage Rates
Travel Agent Rental Options Rates
Upgrade Suggestions
Customer Receives Reservation E-Mail Confirmation
Travel Agent Receives Reservation E-Mail Confirmation
The process is easy to use and streamlined, allowing for quick reservations with minimal training. The more you sell the more you make!
Interested agencies simply need to register at:
http://www.royalrentacar.com/Partner_SignUp_TravelAgent.aspx
About Royal Rent-A-Car
Founded in 1983, Royal has grown to be one of the largest independent car rental companies in South Florida. Whether on business or leisure: Royal's competitive rates, late model cars and superior customer service are prepared to fulfill all their car rental customer needs.