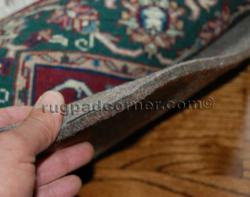 Wilton, CT (PRWEB) March 21, 2012
Unlike others, Superior is a felt rug pad that is safe for all floors and is rated as green for the environment by the United States green rating system. Superior felt rug pad does not contain chemicals, glues or adhesives that are common to many felt rug pads and hence, has been rated as a contributor to a green environment and LEED.
"We have always manufactured our Superior felt rug pad with a greener environment in mind," states Sam of Rug Pad Corner. "Superior stands out among other felt rug pads because it is one of the rare rug pads that do not contain adhesives, glues or chemicals." Sam continues to state that one of the main reasons the company manufactures Superior felt rug pad without the chemicals or adhesives common among other rug pads is to keep the rug pad safe for the floor. In return to this clean production, Superior has also been proven to be safe for the environment and customers' homes, something Rug Pad Corner always takes very seriously.
The LEED green building rating system, developed and administered by the U.S. Green Building Council, a Washington D.C.-based, nonprofit coalition of building industry leaders, is designed to promote design and construction practices that increase profitability while reducing the negative environmental impacts of buildings and improving occupant health and well-being. Rug Pad Corner is proud to have Superior felt rug pad contribute to LEED. "Our customers are always very impressed with Superior's quality standards and the most popular comment we hear is that there is finally a rug pad that does not contain a chemical smell", states Sam.
Rug Pad Corner manufacturers Superior felt rug pad in a dense 40 ounce quality. Recycled felt is needle punched together and then heat pressed into a dense and compact rug pad that will perform for several years. While this type of manufacturing takes more time that more common forms of felt pad manufacturing, it assures that there is no use of chemicals, glues or adhesives. Superior is available online in all sizes and shapes and is one of the more popular felt rug pads to use under any area rug on any hard floor surface.