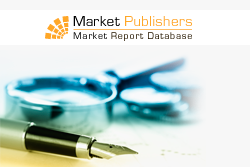 London, UK (PRWEB) March 19, 2012
With the rising interest of end-users and increasing awareness about the applications of the technology in different sectors, the global radiofrequency identification (RFID) market is expected to grow at a CAGR of around 18% through 2014 to reach approximately USD 19.3 billion. The RFID market in the Asia-Pacific is growing at a faster rate than those of Europe and America.
The phenomenal growth in the various emerging RFID applications under different verticals will outpace the other automatic identification technologies, like barcode. Last year, the maximum demand for the RFID came from the transportation sector, whereas retail emerged as the fastest growing vertical.
New research report "Global RFID Market Forecast to 2014" elaborated by RNCOS E-Services has been recently published by Market Publishers Ltd.
Report Details:
Title: Global RFID Market Forecast to 2014
Published: March, 2012
Pages: 115
Price: US$ 1,500
http://marketpublishers.com/report/technologies_electronics/telecommunications/global_rfid_market_forecast_to_2014.html
The research report features unbiased analysis and forecast for the RFID market from a global perspective, with a focus on the world's major regions: America, Europe and the Asia Pacific. It also gives a brief analysis and outlook for the market of chipless RFID. Statistical tables and charts providing country-level data for the RFID market are also included. The study analyzes RFID tags, reader and software/services market and presents the forecasts for these product segments. It also details the key market drivers as well as major restraints to the growth of the global RFID deployments.
Report Contents:
1. Analyst View
2. Research Methodology
3. RFID Market
3.1 Overview
3.2 Current and Future Outlook to 2014
4. Product Level Analysis
4.1 Tag
4.1.1 Market Overview
4.1.2 Regional Segmentation
4.2 Readers
4.2.1 Market Overview
4.2.2 Regional Segmentation
4.3 RFID Software & Services
5. Vertical Segmentation Analysis
5.1 Healthcare
5.2 Retail
5.3 Automotive
5.4 Government
5.5 Transportation
6. Regional-Level Analysis
6.1 Americas
6.1.1 By Product
6.1.1.1 Tag
6.1.1.2 Readers
6.1.2 By Verticals
6.1.2.1 Healthcare
6.1.2.2 Retail
6.1.2.3 Transportation
6.1.2.4 Asset Tracking
6.1.3 By Country
6.1.3.1 US
6.1.3.2 Canada
6.2 Europe
6.2.1 By Product
6.2.1.1 Tag
6.2.1.2 Readers
6.2.2 By Verticals
6.2.2.1 Healthcare
6.2.2.2 Retail
6.2.2.3 Transportation
6.2.2.4 Asset Tracking
6.2.3 By Country
6.2.3.1 UK
6.2.3.2 Germany
6.3 Asia-Pacific
6.3.1 By Product
6.3.1.1 Tag
6.3.1.2 Readers
6.3.2 By Verticals
6.3.2.1 Healthcare
6.3.2.2 Security, Asset Tracking, and Access Control
6.3.2.3 Transportation/Logistics
6.3.3 By Country
6.3.3.1 Japan
6.3.3.2 China
6.3.3.3 Taiwan
6.3.3.4 South Korea
6.3.3.5 Malaysia
6.3.3.6 Singapore
6.3.3.7 Thailand
6.3.3.8 India
7. Chipless RFID Market Outlook
8. Growth Drivers
8.1 Increasing Government Adoption
8.2 Efforts toward Standardization
8.3 Emerging Applications
9. Growth Inhibitors
List of Figures
List of Tables
More new market research reports by the publisher can be found at RNCOS E-Services page.