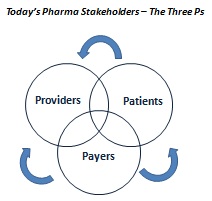 Insights that drive the creation of solutions will come from a deep understanding of the customer. For marketers, thinking the way a customer thinks will be a requirement.
Monroe Township, New Jersy (PRWEB) March 21, 2012
Multiple factors are driving the need for industry-wide change. One of the biggest contributors is the escalating cost of healthcare. In an effort to stop and reverse this trend a great emphasis is being placed on improving the delivery of care and outcomes for patients. In addition, the number of stakeholders involved in treatment decisions has expanded beyond the physician to include payers and patients. These are just two examples of the external realities that pharmaceutical marketers have to consider as they develop their competitive strategies.
The report, "The Next Generation of Pharmaceutical Marketing Strategies", has been written to support companies with their strategic marketing plans. Through the use of primary and secondary marketing research, CBR Pharma Insights provides insights & analysis to help teams, business units, and companies maximize revenues while staying true to the goals that have been set up corporate-wide throughout their organization.
Use this Report to:
Benefit from the analysis of CBR's primary market research done with 200 US-based physicians which include PCPs, Cardiologists, Endocrinologists, and Neurologists
Understand where marketing strategies have remained consistent with the past while learning where new approaches must be taken in order to be successful
Gain insights into the critical areas that need strategic consideration when looking to establish your brand or business unit's marketing plans
Learn which digital marketing opportunities should be considered based on how physicians are using the new tools available to them
Ensure your marketing strategy is complete in reaching the multiple stakeholders involved in making the treatment decision