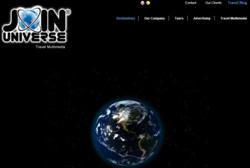 Digital Agency developing in-house travel networks for clients on demand.
London (PRWEB) March 21, 2012
New UK digital agency Join Universe Ltd offers marketing solutions for advertisers of the travel sector. The firm came up in 2012 with two modalities for online travel marketing: Outsource or In-house Advertising.
Outsource Advertising
Advertisers can contract ad spaces, sponsored travel articles and reviews across Join Universe's Network, which creates bilingual and unique content for different countries. The current travel network includes advertising opportunities at our tourism websites and travel blog:
America: joinnewyork.us - joinuruguay.com - joinchile.com – joinmexico.com – joinrio.com
Europe: joinlondon.co.uk - joinparis.com - joinberlin.com - joinspain.es
Blogs: etravelblog.com - blogviajesyturismo.com
Directories: freetraveldirectory.com – directorioyturismo.com
Corporate: joinuniverse.com
NEW: In-House Advertising
Advertisers can contract a team in Join Universe for a specific period of time to develop a network on demand. Some benefits of this new concept include:

Exclusive ad spaces
Low time and human resources spend
Ownership of websites
More flexibility for marketing campaigns
Benefit from internal link building with Join Universe's Network
Fastest ranking results in search engines
No server/hosting requirements (websites hosted at Join Universe server: OPTIONAL)
Community manager for social networks
Monthly reports
Join Universe provides web designers, writers and SEO specialists to develop a network for any industry in less than 30 days. In addition, Join Universe is responsible for uploading daily content to the websites and conduct SEO efforts to keep adding value to the network. Additionally, social networks efforts can be conducted on request.
Advertisers will have Join Universe's team available to follow their instructions and adapt to their marketing campaigns. With this new modality, advertisers will have not only a new communication channel to send their news, but also a supervised team to write content and rank websites at affordable prices.
About Join Universe
UK based digital agency Join Universe was launched in 2011 and it has been providing multimedia solutions for digital campaigns. Its personalized service of appointing an account manager with executive skills to each client as well as the experienced creative team are some of the core capabilities of the firm and responsible for its fast growing pace.
Its long term relationships with satisfied clients have lead to launch in 2012 the In-house Advertising services, and the company looks forward to expand into new industries for the short term. Some new projects to be launched in 2012 include tripstates.com and Spanish tours at paseosyexcursiones.com