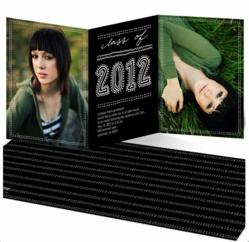 What has most surprised you about your grad? We invite parents to share their grad's story.
Mankato, MN (PRWEB) March 19, 2012
Graduation is a special occasion for both graduate and parents, a milestone to be recognized by all who have been a part of the graduate's life. Pear Tree Greetings would like to help families share their grad's success, and is offering them a chance to win free graduation invitations for their graduation celebration.
"We're inviting parents of 2012 graduates to answer the question, 'what has most surprised you about your grad?' said Stephanie Bottner, General Manager at Pear Tree Greetings. "Did your son develop into a wonderful artist despite your inability to draw a stick figure? Did your daughter turn into a computer engineer despite the fact that you can't find the power button? Our children surprise and delight us in unexpected ways as they grow and blossom into unique individuals. We invite parents to share their grad's story, and the lucky winners will receive up to $100 in graduation announcements."
This contest will run from Monday, March 19, through Sunday, April 1. Entrants must be a parent or guardian of a 2012 graduate from either high school or college.
Entries should be sent to contests(at)peartreegreetings(dot)com and must include the entrant's name, email address and phone number. All entries will be posted on the Pear Tree Greetings blog and the winners will be notified on or before April 9.
The winner will be chosen by judges at Pear Tree Greetings. First place will win $100 worth of graduation announcements or other graduation products from Pear Tree Greetings. Second place will receive $50 worth of graduation invitations and third place will be awarded $20 worth of graduation products.
Contest rules and details can be found here.
About Pear Tree Greetings
Pear Tree Greetings celebrates life's sharable moments with its unique collection of personalized, high-quality greetings and stationery made with 100-pound matte-finish card stock. With hundreds of designs for every occasion, available for purchase online for any budget, Pear Tree inspires people to stay connected with friends and loved ones.