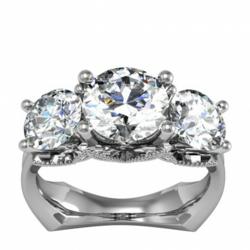 Michael brings his passion for creating completely custom made jewelry to everyone with this new line of inexpensive engagement rings that offer timeless beauty and amazing detailing
(PRWEB) March 19, 2012
Michael Nashef, a jewelry designer who has worked for Diamond Nexus creating custom rings for the Nexus Design Studio first created the Intersecting Hearts design on his wife's engagement ring.
Nashef's idea of merging together the overlapping hearts that creates a symbol of budding leaves, calls to mind the idea of a couple's own journey towards each other and a lifetime of commitment. This shape is known as the Intersecting Hearts.
The collection features twelve new ring designs that Nashef created with inspiration from travel, nature and architecture. He named all of the rings in the new line, and honored his wife with the Maya Costa ring, that was made to resemble the ring that he handmade for their engagement ring.
"Michael brings his passion for creating completely custom made jewelry to everyone with this new line of inexpensive engagement rings that offer timeless beauty and amazing detailing," noted Nancy Jaeck, Nexus Design Studio Manager. "We are all so proud to be offering a new line that he has created, and his skills as an artisan really show with these new rings!"
For customers interested in ordering a ring from the new Intersecting Hearts collection, pre-orders are available now. All of the rings will be able to ship by April 16th. "We have had a huge response from the launch of the new collection and we recommend that customers call in to place their order now, to avoid any delays," commented Rachel Kashishian, Customer Service Manager. "With many of the rings being peg-head styles, the rings can be semi-customized to hold any stone cut or carat weight. Customers can call at 1-800-509-4990 and we can assist in ordering the ring with those changes."
Diamond Nexus was founded in 2004 with the purpose of bringing to the public the powerful benefits of the lab-created diamond simulant revolution. They have over 250,000 customers worldwide that have awarded them an "A+" rating with the BBB, and are the ninth largest online jewelry retailer in America according to the 2011 IR500 list. For two years in a row brides from The Knot have selected them as their Best of Jeweler. Diamond Nexus currently has two retail locations: their flagship store at Woodfield Mall in suburban Chicago, Illinois, and a second store at Mayfair Mall in Milwaukee, Wisconsin. In 2009 the company was named the official jeweler and crown maker of the Miss Universe Organization as part of NBC/Universal's "Green is Universal" environmental initiative