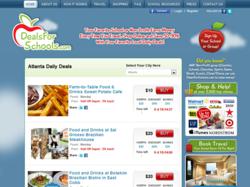 "For example, a local (Atlanta) dentist sold $4,875 in teeth whitening yesterday. That is $390 that could have gone back to local school" - Michael Pate, Co-Founder
Atlanta, GA (PRWEB) March 20, 2012
DealsForSchools.com, the leading online fundraising source for schools, now offers deals from Living Social, Sweet Jack, Half-Off Depot and several other local deal providers to give subscribers more choices and to save money while raising funds for schools and non-profits.
Consumers can now buy Living Social deals through DealsForSchools.com and eight (8%) goes back directly to the school or non-profit organization of the consumer's choice. Deals purchased from Sweet Jack and Half-Off Depot will earn 5% back to a school while other deals offered through DealsForSchools.com can earn 10% for a school or non-profit. The company added a variety of deal providers to its daily deal component to include a broader range of family-friendly deals, and more localized deals specifically for residents of dozens of cities. Deals on the site offer discounts ranging from 50 to 90 percent off regular pricing.
Subscribers must sign up at DealsForSchools.com in order for the money to be given to their selected school or non-profit organization. Every day they receive one email that includes all the local deals from deal providers who have elected to work with DealsForSchools.com. For every purchase they make at DealsForSchools.com they earn money for their favorite school or non-profit. Quarterly, a check is sent to any school or non-profit who has accumulated over twenty ($20.00) dollars during that time.
"We are extremely excited to offer our subscribers the great deals from Living Social, Sweet Jack and many other local deal providers. More choices mean more money for schools. For example, a local (Atlanta) dentist sold $4,875 in teeth whitening yesterday. That is $390 that could have gone back to local schools," says Michael Pate, President and Co-Founder of DealsForSchools.com.
Ben Bussey, CEO and Co-Founder of DealsForSchools.com, states "Almost every family will buy a daily deal from one of these sites this year. Just imagine how much money could be channeled to deserving schools and non-profits. In tough economic times, these groups are hit the hardest so by encouraging their supporters to use DealsForSchools.com, they can earn money while their supporters save money."
About DealsForSchools.com:
DealsforSchools.com is America's #1 Hassle-Free Fundraiser. DealsForSchools.com brings schools or any non-profit organization a simple way to earn money without selling products or services or requiring additional time or financial burden from administrators or supporters. Supporters simply book travel, shop and grab daily deals online, and a portion of the purchase goes directly to their preferred school or non-profit.
To see the latest interviews and press coverage about DealsforSchools.com from Fox News Live, WABC, WNBC and 11 Alive Atlanta please visit the Press Page.
Logos can be found here.