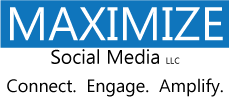 "Kimberly has a great combination of people skills and Internet marketing – her energy will help our company continue its rapid expansion," said Chris McLaughlin, CEO of Maximize Social Media LLC
Los Angeles, CA (PRWEB) March 19, 2012
Maximize Social Media LLC, a leading social media agency, named Kimberly Bohannon as Director of Business Development today. Mrs. Bohannon will focus on building Maximize's position as the leading provider of done-for-you social media services for businesses looking to outsource their social media. In addition, Mrs. Bohannon will assist Maximize in further development of its outsourced Facebook ad management services for businesses and advertising agencies needing expertise in that area.
"You rarely come across someone with as much enthusiasm for social media as Kimberly Bohannon has, so when we started working with her we knew we needed to formalize our relationship and work more closely," said Chris McLaughlin, CEO of Maximize Social Media. "Kimberly has a great combination of people skills and Internet marketing – her energy will help our company continue its rapid expansion," he noted.
Mrs. Bohannon is an experienced Internet marketing professional with a strong background in social media consulting and search engine optimization. Prior to working in social media management, she worked with several start-up companies where she built the marketing foundation that she relies upon today.
With natural interpersonal and communication abilities, Mrs. Bohannon has acquired a solid reputation for effective networking and strategic alliance building among crucial industry resources. She is able to build and mobilize highly-effective online social media marketing program initiatives that lead to significant client growth.
Mrs. Bohannon is a Certified Professional Business Coach and a founder of three successful online marketing companies. She and her husband Jeff, a Top-Gun Sales Product Specialist, live in Louisville, KY and have three children, Cristin, Ryan, and Hunter.
About Maximize Social Media LLC
Maximize Social Media (http://www.maximizesocialmedia.com) is a social media agency that provides management services for clients in over 40 different verticals. With offices in Florida and Los Angeles, Maximize offers social media consulting and Facebook advertising management for clients in English speaking countries such as the US, Canada, and Australia. The company also features social media management outsourcing for busy social media mangers looking for additional assistance on a white label basis.