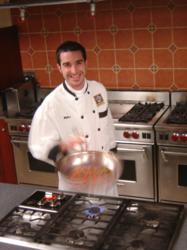 Hampton, NH (PRWEB) March 21, 2012
Chef Ron Boucher, CEC, AAC, owner of Chez Boucher Cooking School is proud to announce his new American Culinary Federation certified apprenticeship program. The ACF is an organization that began in 1929 and has over 20,000 members. It is considered to be the premier organization of professional chefs in North America.
The Professional Culinary and Pastry Arts Program at Chez Boucher are endorsed by the ACF. These are condensed, accelerated and affordable programs that provide students with the hands on experience needed to enter the culinary or pastry fields.
Upon successful completion of the 16 week program the top students will be selected to fulfill their apprenticeship at our new on site restaurant, Savory Square Bistro. Once finished with their internship, students will receive dual certificates from Chez Boucher as well as the ACF. With these certificates students are prepared to apply their newly aquired skills with confidence.
Chez Boucher Cooking School and Savory Square Bistro are located at 32 Depot Square, Hampton, New Hampshire. Savory Square Bistro is open Wednesday thru Saturday, 4:30 - 10:00 P.M. and Sunday brunch 10:00 A.M. - 3:00 P.M. They can be reached at 603-926-2202 or at info(at)chezboucher(dot)com.