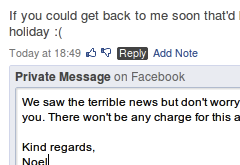 The growth of customer service requests to the same level as Twitter means a 4-5 times increase in volume for companies on Facebook.
London and New York (PRWEB) March 20, 2012
With the advent of timelines for brands, Facebook users are able to Message companies directly, just as they do with their friends. Social customer service software company Conversocial has integrated pages' direct messages, less than a day after Facebook released the API enabling the feature.
Conversocial Co-founder and CEO Joshua March says the new option for users to send private messages to pages will force companies to provide better customer service than most have in the past.
"Many companies right now ignore the fact that they're getting real customer service issues on the Wall — either just ignoring them or passing them off with replies asking them to email support," March says. "It will be impossible to ignore the thousands of long form, private customer service issues they're about to start getting."
In a recent investigation into the different types of messages received by retailers on the largest social networks, Facebook and Twitter, Conversocial discovered that Twitter is currently much more heavily used for customer service. 32% of all tweets are real customer service issues, compared with only 7% of Facebook comments and posts.
With the arrival of page messaging, akin to Twitter's Direct Messages, the number of consumers reaching out to brands through social media for assistance with real issues will accelerate. Facebook already attracts a much higher volume of communication; the growth of customer service requests to the same level as Twitter means a 4-5 times increase in volume for companies on Facebook as private brand messaging picks up speed.
Ignore customers reaching out through this new avenue, and they can take the problem public in just a click. But this shouldn't just be held in fear; it will now be much easier for customer service representatives to follow an issue at every touch point, as more and more problems are raised and resolved within social channels. Conversocial moved quickly to be the first provider to integrate Facebook messages, pre-empting a surge in the platform's customer service usage.
With Conversocial, companies can view and respond to incoming messages from users directly from the platform where they manage other Facebook and Twitter interactions. Conversocial users can also take advantage of features that Facebook doesn't offer like assigning tickets, adding category tags and marking sentiment. The system helps companies keep track of which representatives are taking what actions on behalf of the page. On Facebook, there is no way to tell which admin made a post or responded to a direct message, but with Conversocial there is a log to keep track of these activities. The tool also provides analytics about average response time for each company representative so organizations can understand how their customer service agents are performing. With social customer service agents set to handle more sensitive information through private social avenues, audit and accountability become more important than ever before. A unified view of every customer and tracking of all data through Conversocial means that customer service through social channels can be treated as seriously as email or phone.
Conversocial is software that enables customer service in Facebook and Twitter. Groupon, ITV, Net-a-Porter and more use this collaborative platform to manage the flow of discussions going through Facebook and Twitter. Conversocial has processed over 75 million messages for its customers.