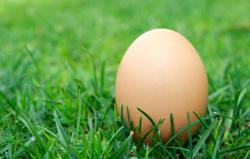 There are reports of egg being imported from the USA where welfare standards are very different to those in the EU
Essex, England (PRWEB UK) 20 March 2012
Ian Chisholm, an Essex-based free-range egg farmer and spokesman for Egg Producers Together, representing a number of UK egg producers says their concerns feature on the advertising campaign by the British Egg Industry emphasising the legality of UK egg production with the run up to the ban on the battery cage eggs that was supposed to be implemented across EU states from January 1, 2012.
Mr Chisholm says: "The Lion advertising campaign focused on the fact that buying British egg was the only assurance of being legal, ethical and safe. Buyers have subsequently concentrated on sourcing British Lion egg only to find that there is an acute shortage and that Lion supply has not geared itself for the corresponding demand. By not acting responsibly, buyers accuse the Lion suppliers of failing to meet the requirements of the British food industry and letting customers down."
Egg Producers Together says that this criticism has been compounded by the fact that the food industry may now need to import product to meet demand and that there are reports of egg being imported from the USA where welfare standards are very different to those in the EU with egg being produced in systems that would be considered by many animal welfare groups as wholly unacceptable.
Mr Ian Chisholm continues: "This situation is totally unacceptable, and we feel that the management of the British Egg Industry Council (BEIC) have yet again let the industry down, by failing to plan effectively and work with UK producers to help promote British Lion Egg. In doing this, they have undermined our position, caused a great deal of mistrust with our buyers and damaged our route to market and how we sell our product. UK buyers will be forced to look elsewhere for supply from those with lower welfare standards and cheap production costs and British producers will lose out on adding any value as we miss potential sales and better prices. In our view the BEIC has failed the British Egg Producer and has only succeeded in protecting the interests of the few bigger packers helping them to secure their existing customer base at the expense of a wider UK market. In effect they have succeeded in doing the very thing they would have us believe they were working against, the import of inferior, illegal cheap eggs, while many British Egg Producers are still facing the daily threat of bankruptcy."
Egg Producers Together have launched an online forum to protest against current threats to the UK egg industry at http://www.eggproducerstogether.co.uk Contact Ian Chisholm on 01277 362414 or mobile: 07732 189364