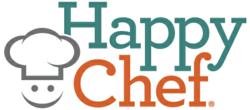 Throughout 2011, we spoke to chefs and business owners to get their feedback, and used that insight to create our best apparel yet.
Butler, NJ (PRWEB) March 20, 2012
A leading supplier of restaurants and other food service venues, Happy Chef wanted to evolve, not replace, its previous "smiling chef" logo. Company leaders worked closely with designers to create a fresh icon that still represented Happy Chef's primary goal: making culinary professionals happy. The 2012 logo features an updated happy face and maintains the bright colors familiar to current customers.
"We designed the new logo to show existing customers that we're still dedicated to providing professional chef apparel at affordable prices," said David Barr, Vice President of Sales at Happy Chef. "Plus, it had to give people who don't know about us an instant idea of our values and what we do. We want to show that we offer an easy shopping experience with friendly, personal service."
Happy Chef's visual rebranding extends well beyond the scope of a refreshed logo. The company in the process of updating packaging, labeling, signage, and other materials to reflect a new age of commerce where both offline and online sales are integral to business growth.
In addition to these aesthetic updates, Happy Chef has launched an array of improvements to its culinary apparel product line for the fiscal year. "We all recognize that first and foremost, [our business] is about creating and delivering great products," said Barr. "Throughout 2011, we spoke to chefs and business owners to get their feedback, and used that insight to create our best apparel yet."
Barr went on to explain that Happy Chef's 2012 professional attire line includes both brand new items and major enhancements to its existing coats, pants, aprons, and hats. "To start, we added more colors and styles so our customers can choose something that fits their needs," he said. "We secured higher quality fabric and material for many items to bolster comfort and durability. Happy Chef also added CookCool performance fabric to dozens of items for advanced cooling power in hot cooking conditions."
The company is planning additional changes for 2012, including a revamped website and an improved catalog. In the interim, customers looking to preview these features and browse the updated product line can do so at http://www.happychefuniforms.com
About The Happy Chef, Inc.
Happy Chef® is the leading manufacturer and provider of affordable culinary uniforms, from chef jackets to chef pants, among foodservice professionals. Founded in 1985 by Chairman Joseph H. Nadler, Happy Chef has grown from a local apparel provider to an international distributor of chef wear, footwear, cutlery, and other food service necessities. Known for industry-leading value, durability, and customer service, Happy Chef is also host to the largest virtual cooking community with a Facebook following of over 110,000 members as of this writing.
For additional information about The Happy Chef, Inc., visit http://www.happychefuniforms.com or call 800-347-0288. The Happy Chef, Inc. is an A+ accredited Better Business Bureau registrant and is headquartered at 22 Park Place, Butler, NJ 07405-1371.