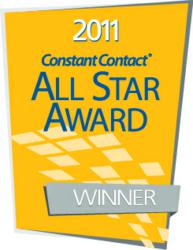 Toronto, ON, Canada (PRWEB) March 21, 2012
essence coaching, a business that coaches professionals, entrepreneurs and their teams to be their full potential, and turn their vision into action, has received the 2011 All Star Award from Constant Contact®, Inc., the trusted marketing advisor to more than half a million small organizations worldwide. Each year, a select group of Constant Contact customers are honored with the All Star Award for their exemplary marketing results. essence coaching's results ranked among the top 10% of Constant Contact's customer base.
essence coaching offers holistic coaching solutions that cultivate self-awareness, leadership and team strengths, and balanced living. Balance is fundamental to developing full potential and turning vision into reality, personally and professionally.
"We're thrilled to be recognized by Constant Contact for achieving strong marketing results. Constant Contact's tools are helping us build a community of like-minded professionals and entrepreneurs, and helping us stay connected. Remaining engaged with our supporters is essential to realizing essence coaching's vision, which is to help the world prosper through the empowering process of coaching people's full potential. We intend on maintaining this level of excellence by continuing to offer rich, inspiring, and practical leadership insights to our supporters in our free monthly e-newsletter." says Helen Roditis, the founder of essence coaching.
Constant Contact customers using any combination of the company's Email Marketing, Event Marketing, and Online Survey tools are eligible for this award. Constant Contact looked at the following criteria to select this year's All Stars:

Frequency of campaigns, events, and surveys
Open, bounce, and click-through rates
Event registration rates
Survey completion rates
Use of social features
Use of mailing list sign-up tools
"There is nothing we like more than to see our customers finding success. It's the reason Constant Contact was founded, and it's a thrill to see the fantastic results that our All Stars are achieving," said Gail Goodman, CEO of Constant Contact. "This group is really leading the charge when it comes to delivering relevant, engaging content that drives real business results. We salute this year's All Stars for their success, and are honored to have played a part in their achievements."
About essence coaching
Holistic coaching solutions that help mobilize people to be their full potential, inside and outside the workplace, are what make working with essence coaching so effective. Coaching services such as, career, work/life balance, stress management, leadership and team development are available in one-on-one or group sessions. These services are all interconnected and delivered by certified coaches accredited by the International Coach Federation. Essentially, essence coaching facilitates positive change in professionals' lives, careers and work environments by taking a big picture approach. Affordable and accessible products are also being developed and on their way. essence coaching's first book, written by its founder, Helen Roditis, will be published in the coming months.
About Constant Contact, Inc.
Constant Contact is revolutionizing the success formula for small organizations through affordable, easy-to-use Engagement MarketingTM tools that help create and grow customer relationships. More than half a million small businesses, nonprofits, and associations worldwide rely on Constant Contact to drive ongoing customer dialogs through email marketing, social media marketing, event marketing, and online surveys. All Constant Contact products come with unrivaled KnowHow, education, and free coaching with a personal touch, including award-winning customer support.
Constant Contact and the Constant Contact Logo are registered trademarks of Constant Contact, Inc. All Constant Contact product names and other brand names mentioned herein are trademarks or registered trademarks of Constant Contact, Inc. All other company and product names may be trademarks or service marks of their respective owners.
Media Contact:
Helen Roditis, ACC, founder & leadership coach
essence coaching
t: 416-322-3623
e: hroditis(at)essencecoaching(dot)ca
w: http://www.essencecoaching.ca