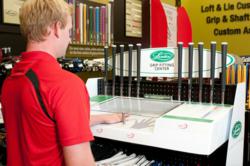 "The right golf grip will feel comfortable, fit properly and ultimately, help you control your club," says CEO Bob Lamkin. "Regripping to your proper size is the most economical way to dramatically change your game for the better."
San Diego, CA (PRWEB) March 20, 2012
The majority of golfers use poorly fitted golf grips – often relying on standard-issue grips that come with their gear – which could explain countless errant balls or extra swings. Fortunately,Lamkin Grips' 2012 line now offers the industry's widest selection of grip sizes, ensuring golfers can be matched to their ideal grip.
"A grip is the only point of contact between the player and the club, so if the fit isn't perfect, the swing suffers," explains CEO Bob Lamkin. "With the right fit, you build consistency, control and improved play. I challenge anyone playing with standard-issue grips to regrip just one club and compare. The difference is compelling."
The company set out to accommodate every golfers' grip requirements by expanding its collection to include Undersize, Midsize, Standard and Oversize – each of which can be adjusted to a perfect custom fit with additional layers of tape.
"The right golf grip will feel comfortable, fit properly and ultimately, help you control your club," Lamkin notes. "Golfers should look at grips the way they do their shoes – if the fit isn't just right, the game will suffer. Regripping to your proper size is the most economical way to dramatically change your game for the better."
Lamkin is helping golfers quickly and easily identify just the right grip by installing new Grip Fitting Centers at more than 70 GolfSmith stores nationwide. Like the foot measuring device used in shoe stores, Lamkin's Grip Fitting Center measures two factors: hand size and finger length. Those two measurements help identify a golfer's optimal grip size for comfort and performance. Golfers then select from one of more than ten grip sizes within the display that can be further customized with additional layers of tape, if necessary.
For more information about Lamkin Grips, visit http://www.LamkinGrips.com or to find a Lamkin Grip Fitting Center, visit http://www.GolfSmith.com for locations.
ABOUT LAMKIN GRIPS
Lamkin Grips' golf heritage dates back to 1925 when founder Elver B. Lamkin began manufacturing the first leather-wrap style golf grips. Today, the family-owned business delivers the industry's best assortment of game-enhancing grips that continue to earn loyal global customers including premium club manufacturers and golfers of every ability. With more sizes, styles, patterns and materials than anyone else in the industry, Lamkin Golf grips provide custom-fit performance benefits to every golfer regardless of age, gender, handicap or rounds played. Last year, Lamkin dominated Golf Digest's Hot List – one of the industry's premier golf grips review resources – by securing half of the list's coveted gold medals.