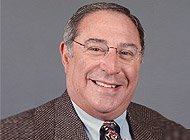 SalesKatz is at the dawn of one of the greatest software opportunities I have seen
Cleveland (PRWEB) March 21, 2012
SalesKatz, Inc. developer of the world's first true sales prospecting automation tool for salespeople, today announced that software industry veteran, Vic Leventhal, has joined its board of advisors. Mr. Leventhal brings more than 40 years of experience and entrepreneurial success in the high-tech industry to SalesKatz's future growth.
Mr. Leventhal was the original COO for SW now a leading brand of Dassault Systemes and also served as a Group Executive for Dassualt Systemes for four years following his assignment as COO of SolidWorks. Mr. Leventhal will collaborate with Mr. Ken Zebracki, SalesKatz' CEO, on strategies to increase SalesKatz visibility, market share and revenue growth within the worldwide sales community.
"Vic has an outstanding track record of startup success, value creation and leadership in the software industry; we will benefit tremendously from his knowledge, expertise and strategic vision," said Zebracki. "We're very happy to welcome him as a member of the board and very fortunate to have him as a resource as SalesKatz extends its global sales activities.
"With nearly 2,500 beta customers around the world already using SalesKatz, they have clearly established themselves as the leading company in a rapidly growing market sector," Mr. Leventhal noted. "I am convinced that SalesKatz is at the dawn of one of the greatest software opportunities I have seen, and I look forward to assisting Ken and his team on crafting the strategies that will put SalesKatz into the hands of all salespeople on all five continents."
Mr. Leventhal is now providing business and consulting expertise to the SolidWorks organization helping them with dealers and with business and channel strategies. Mr. Leventhal originally joined SolidWorks in 1995 as the chief operating officer where he was instrumental in defining the go to market strategy and establishing its wildly successful Value Added Reseller Channel which is now the envy of the engineering software industry. As a result of Mr. Leventhal's efforts, within a few years SolidWorks had created a whole new mid-market, and clearly established itself as the leader for mechanical engineering software in this segment. Dassault Systèmes took notice, and in 1997 acquired SolidWorks for $310 million. Prior to joining SolidWorks, Mr. Leventhal served as president and chief executive officer at CAD Solutions, growing it to become the largest Autodesk reseller in the USA. In addition, Mr. Leventhal has held a number of senior marketing and business strategy management positions at IBM Corporation and Computerland. Mr. Leventhal graduated from the University of Texas at Austin with a bachelor's degree in business administration.
About SalesKatz
Privately held with world headquarters in Cleveland, Ohio, SalesKatz has dramatically refined the sales process by utilizing advanced search engine techniques that align sellers and buyers in B2B selling situations. Founded in 2011, the company develops software applications that help salespeople align their product attributes with potential buyers needs by scouring the web for information utilizing their proprietary search engine. To find out more about the next generation in business software, visit http://www.saleskatz.com.