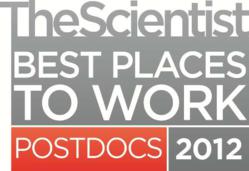 It's clear from our survey data that postdocs are in a much better place than they were 10 years ago, says The Scientist editor Jef Akst
New York, NY (PRWEB) March 29, 2012
Results show that the once temporary positions are lasting longer and longer, but postdocs are enjoying more benefits and are happier for it, with fewer postdocs reporting their job satisfaction as "Fair" or "Poor," and more choosing "Excellent" today, than over the 10-year history of The Scientist's Best Places to Work survey.
Increased postdocs satisfaction may also stem from the support they now enjoy within their own institutions and nationwide. When The Scientist first launched its survey in 2003, the National Postdoc Association (NPA) was only just being conceived. Now, in addition to the NPA, many institutions boast internal postdoc associations and offices to which these post-graduate researchers can air their complaints.
"It's clear from our survey data that postdocs are in a much better place than they were 10 years ago," says The Scientist editor Jef Akst, who oversees the survey. "We are pleased to have been one of the first voices for this population of scientists 10 years ago, and even more pleased to see how much support they have gained over the years."
This year's top-ranking institutions include the Whitehead Institute for Biomedical Research in Cambridge, which topped the list of US institutions for the second year in a row, and the Champalimaud Centre for the Unknown, a newcomer to the survey that took the #1 spot among international institutions.
More than 1,500 postdocs responded to this year's survey. The full survey results and methodology will be detailed in the article "Best Places to Work for Postdocs: 2012," appearing in The Scientist's April issue and online at http://www.the-scientist.com. Members of the press who would like access to the full text or more information about The Scientist's Best Places to Work surveys should contact postdocsurvey@the-scientist.com.
The top 10 US academic institutions are:
1 Whitehead Institute for Biomedical Research, Cambridge, MA
2 The J. David Gladstone Institutes, San Francisco, CA
3 Fox Chase Cancer Center, Philadelphia, PA
4 Pennington Biomedical Research Center, Baton Rouge, Louisiana
5 Oklahoma Medical Research Foundation, Oklahoma City, OK
6 Argonne National Laboratory, IL
7 La Jolla Institute for Allergy & Immunology, CA
8 Donald Danforth Plant Science Center, Saint Louis, MO
9 Novartis Institutes for Biomedical Research, Cambridge, MA
10 Stowers Institute for Medical Research, Kansas City, MO
The top overall results for non-US institutions are:
1 Champalimaud Foundation, Lisbon, Portugal
2 Institute of Molecular Biotechnology (IMBA), Vienna, Austria
3 Center for Molecular Medicine (CeMM), Vienna, Austria
4 Friedrich Miescher Institute for Biomedical Research, Basel, Switzerland
5 Novartis Institutes for Biomedical Research, multinational
ABOUT THE SCIENTIST
The Scientist has informed and entertained life science professionals around the world for over 25 years. We provide print and online coverage of the latest developments in the life sciences including trends in research, new technology, news, business and careers. We reach the leaders in academia and industry that are interested in maintaining a broad view of the life sciences by reading insightful articles that are current, concise and entertaining.
END
###