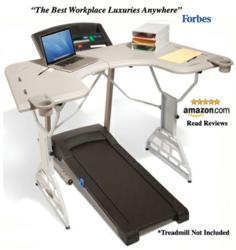 5 of the 7 metrics listed in this report are directly related to levels of physical activity and can be improved with the TrekDesk.
Scottsdale, AZ (PRWEB) March 19, 2012
A recent study from the Centers for Disease Control (CDC) reported in this month's Journal of the American Medical Association found that of the seven essential metrics connected to cardiovascular health only 1.2% of American adults met established guidelines. This figure was down from 2% previously established in 1994. TrekDesk Treadmill Desks offer a unique solution to meet a majority of these heart healthy guidelines.
The CDC report stated that cardiovascular disease is still the leading cause of death in the U.S accounting for approximately one third of annual mortalities with an estimated overall cost of $444 billion.
TrekDesk Treadmill Desks can assist individuals in meeting five of the seven heart healthy guidelines. The seven recommendations for improving heart health as set forth by the American Heart Association are:

No smoking
Physical activity (being active)
Having blood pressure under control
Maintaining healthy blood glucose levels
Maintaining healthy blood cholesterol levels
Maintaining a healthy body weight
Following a healthy and balanced diet
The CDC researchers summarized their findings with a necessary recommendation for adherence to all seven of the cardiovascular recommendations: "In summary, our findings indicate that the presence of a greater number of cardiovascular health metrics was associated with a graded and significantly lower risk of total and CVD mortality."
"5 of the 7 metrics listed in this report are directly related to levels of physical activity and can be improved with the TrekDesk," stated Steve Bordley, CEO of TrekDesk Treadmill Desks. "While smoking rates in the U.S. have dropped, so have the levels of physical activity which is the major contributing factor to our health issues today."
About TrekDesk: Designed to fit any existing treadmill, TrekDesk treadmill desk is an affordable, full sized, height adjustable workstation that allows individuals the opportunity to gain the necessary amount of exercise daily to maintain health, prevent disease, strengthen muscles, boost mood and productivity, without requiring additional time during the day or extra motivation. Workout at work with TrekDesk. No sweat!
TrekDesk is currently available for sale online at http://www.trekdesk.com.
Join the TrekDesk "Movement Revolution" to learn more, win a free TrekDesk or ask any health related questions anytime at http://www.facebook.com/trekdesk, or follow TrekDesk on twitter -http://www.twitter.com/trekdesk.