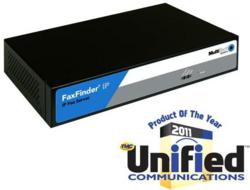 Multi-Tech has proven they are committed to quality and excellence while addressing real needs in the marketplace. - Rich Tehrani, CEO, TMC
Minneapolis, MN (PRWEB) March 20, 2012
Multi-Tech Systems, an industry-leading Unified Communications solutions provider, announced today that TMC, a global, integrated media company, has named the FaxFinder® IP fax server as a recipient of its 2011 Unified Communications Product of the Year Award. Winners are published in the March 2012 issue of INTERNET TELEPHONY magazine, the leading publication dedicated to IP Communications.
The FaxFinder fax server is an all-in-one fax server that provides distributed faxing capabilities, over a WAN, for corporate offices, small remote offices and field sales people. Inbound faxes are delivered to a recipient's in-box or a network folder, or printed on a network printer. Outbound faxes can be sent using a web client or through Microsoft® Office applications. The FaxFinder centralizes fax operations in one location to minimize support costs, eliminate toner costs, reduce energy costs as well as ensure delivery of sensitive documents to intended recipients. It also provides a substantial savings compared to subscription services.
"The FaxFinder IP is ideal for small-to-medium-sized businesses because it offers substantial cost savings over existing legacy fax solutions and on-line fax subscription services, allowing businesses to achieve an ROI in weeks," said David Tincher, Senior Product Marketing Manager. "The FaxFinder IP is also compatible with a variety of leading telephony systems, including Avaya, ShoreTel, Mitel, and Panasonic, making integration into new or existing systems simple and straightforward."
"The editors from INTERNET TELEPHONY are pleased to grant a Unified Communications Product of the Year Award to Multi-Tech Systems for the FaxFinder," said Rich Tehrani, CEO, TMC. "Multi-Tech has proven they are committed to quality and excellence while addressing real needs in the marketplace. We look forward to seeing continued advancement in technology solutions from Multi-Tech in the future."
For more information about the FaxFinder fax server, including webinars, an ROI calculator and customer success stories, visit http://www.multitech.com/ff.go.
# # #
About Multi-Tech Systems
Multi-Tech Systems offers the industry's most comprehensive M2M (machine-to-machine) and unified communications products and services portfolio available today. As a leader in the industry for 40 years, Multi-Tech's reputation for reliability and innovative design is evident with 80+ patents, 20+ million devices being used by thousands of customers worldwide and certifications from more than 30 carriers and over 80 countries. Multi-Tech is certified by the WBENC as a Women's Business Enterprise and by C-TPAT (Customs–Trade Partnership Against Terrorism). Visit http://www.multitech.com. Follow Multi-Tech on Twitter: twitter.com/MultiTechSys.
About INTERNET TELEPHONY magazine
INTERNET TELEPHONY has been the IP Communications Authority since 1998™. Beginning with the first issue in February of 1998, INTERNET TELEPHONY magazine has been providing unbiased views of the complicated converged communications space. INTERNET TELEPHONY offers rich content from solutions-focused editorial content to reviews on products and services from TMC Labs. INTERNET TELEPHONY magazine reaches more than 225,000 readers, including pass-along readers. For more information, please visit http://www.itmag.com.
About TMC
TMC, celebrating their 40th Anniversary in 2012, is a global, integrated media company that helps clients build communities in print, in person, and online. TMC publishes the Customer Interaction Solutions, INTERNET TELEPHONY, Next Gen Mobility and Cloud Computing (formerly InfoTECH Spotlight) magazines. TMCnet.com, which is read by two million unique visitors each month, is the leading source of news and articles for the communications and technology industries. TMC is the producer of ITEXPO, the world's leading B2B communications event. In addition, TMC runs multiple industry events: Mobility Tech Conference & Expo; M2M Evolution; Cloud Communications Expo; SIP Tutorial 2.0:Bringing SIP to the Web; Business Video Expo; Regulatory 2.0 Workshop; DevCon5; HTML5 Summit; CVx; AstriCon; StartupCamp; MSPAlliance MSPWorld and more. Visit TMC Events for a complete listing and further information.
For more information about TMC, visit http://www.tmcnet.com.