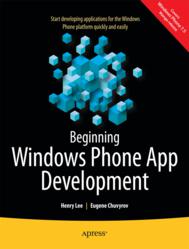 New York, NY (PRWEB) March 20, 2012
According to Distimo, Windows Phone is responsible for more than 50,000 applications—and it just keeps growing. So why not capitalize on what everyone else is doing? Authors Henry Lee and Eugene Chuvyrov help take apps from idea to reality with "Beginning Windows Phone App Development," just released by Apress Media. This title is the most recent book on the market to showcase the implementation of the Windows Phone 7 model and the new Mango platform. Lee and Chuvyrov help to prepare developers with the tools and skills they need to be well versed in the new developments, in addition to creating the user interfaces for handsets.
Starting with the absolute bare bones of developing, from downloading the correct programs to packaging the application for sale on Windows Phone Marketplace, this expert author team doesn't leave any topic untouched. This essential resource will teach readers how to take advantage of the phone's GPS capabilities through an application, which most apps utilize today, and how to incorporate other phone features like the camera, contacts or web browser, to name a few.
"Beginning Windows Phone App Development" was created to target the novice developer. It will cater to anyone looking to create Windows Phone applications on the Windows Phone 7.5 platform. Those with existing knowledge of .NET coding will be able to navigate the content with ease. Anyone looking for a new spin on development to those that are looking to switch from the iPhone or Android systems will benefit from this title.
For more information on this "Beginning Windows Phone App Development," please visit http://www.apress.com/9781430241348.

*500 pages

User Level: Beginner to Intermediate
Publication Date: March 12th, 2012
Available eBook Formats : EPUB, MOBI, PDF
Print Book Price : $39.99
eBook Price: $27.99
About the Authors
Henry Lee, founder of ToeTapz.com and NewAgeSolution.net, is passionate about technology. He works with various Fortune 500 companies, delivering mobile applications and rich Internet applications. He is focusing his energy on delivering mobile applications on Windows Phone 7, Android, and iPhone. In his spare time, he dedicates his efforts to helping his communities by delivering sessions at technology events. He enjoys speaking with other technologists about current trends in technology and sharing business insights with fellow colleagues.
Eugene Chuvyrov is an independent software consultant residing in Sunnyvale, CA. Eugene has been working with Microsoft technologies since he graduated college in 1998, delivering reliable software solutions for small and medium-sized businesses, as well as Fortune 1000 clients. Eugene is actively involved with the user community as event facilitator and frequent speaker and he tried his hand at a couple of startups. One of those startups, Zenith Mobile Solutions, is building mobile applications for Windows Phone 7.
About Apress Media
Apress Media is a technical and business publisher devoted to meeting the needs of IT professionals, software developers, programmers, and business leaders with more than 1,000 books in print and electronic formats. Apress provides high-quality, no-fluff content that helps serious technology professionals build a comprehensive pathway to career success. For more information about the innovative approach Apress takes to publishing, please visit http://www.apress.com.