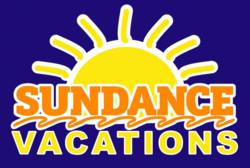 Wilkes-Barre, PA (PRWEB) March 20, 2012
Sundance Vacations (http://www.sundancevacations.com) is proud to announce its 2012 partnership with Six Flags Great Adventure and Six Flags Hurricane Harbor in Jackson, NJ.
As a major sponsor of the destination parks, Sundance Vacations will be onsite every day that the parks are open. Sundance Vacations will have a booth at the entrance of each park from opening day (April 5) until November. The booth will offer an opportunity to talk with Sundance representatives and to sign up for your chance to win the $50,000 Sundance Vacation Sweepstakes.
"Sundance Vacations is proud of its partnership with Six Flags," said President John Dowd. "We look forward to meeting Six Flags visitors this season."
From April 5 to April 15, the Six Flags parks are offering a variety of opening weekend and Spring Break discounts for online ticket purchasers, so this is a perfect time to enjoy Six Flags and visit a Sundance representative.
Sundance Vacations was founded in 1991 by John and Tina Dowd as a means to provide low-cost vacations to popular destinations. It has grown from a small local firm to a national business during the last two decades.
Sundance Vacations is committed to providing travelers clean, comfortable and convenient lodgings, whether they choose the mountains, the beach, or a golf resort.
About Sundance Vacations:
Headquartered in Wilkes-Barre, Pennsylvania, Sundance Vacations maintains seven other offices in Rockaway, NJ; Princeton, NJ; Dublin, OH; King of Prussia, PA; Harrisburg, PA; Downers Grove, IL, and Brookfield, WI.
Sundance Vacations has repeatedly been honored as an outstanding workplace. It was recognized as a Best Place to Work in Pennsylvania by Best Companies Group for four consecutive years. The Downers Grove office was named 17th Best Place to Work in Illinois out of 30 finalist companies. This year, for the first time, Sundance Vacations was named a Best Place to Work in New Jersey.
The company also has been honored twice by Inc. 500/5000 as one of the Fastest-Growing Travel Companies in Pennsylvania.