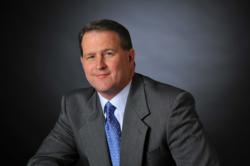 Las Vegas, NV (PRWEB) March 19, 2012
Mike Greaney, Vice President of Sales for Force 3, was presented with the Silver Senior Sales Executive and the Silver National VP of Sales Awards in the Sales & Customer Service 2012 Stevie® Awards banquet, held on February 27 at Caesars Place in Las Vegas.
The Stevie Awards for Sales & Customer Service are the world's top sales awards, contact center awards, and customer service awards. The Stevie Awards organizes several of the world's leading business awards shows including the prestigious American Business AwardsSM and International Business AwardsSM.
Nicknamed the Stevies for the Greek word for "crowned," the trophies were presented to honorees during a gala banquet on Monday, February 27 at Caesars Palace in Las Vegas. More than 350 nominated customer service and sales executives from the U.S.A. and several other countries attended. The presentations were broadcast live by the Business TalkRadio Network.
Mike joined Force 3 in 2009 as the Director of Sales, and was promoted to Vice President of Sales in 2010. He is credited with transforming the team through training and instilling a unified sales methodology throughout the Sales department at Force 3.
"We're delighted to kick off our celebration of the 10th year of the Stevie Awards movement with the 2012 Stevie Awards for Sales & Customer, which is the first program in which we conferred Silver and Bronze Stevie Awards," said Michael Gallagher, president and founder of the Stevie Awards. "It's gratifying and inspiring to have received so many remarkable entries for this year's competition."
"We applaud Mike for being named Silver Senior Sales Executive and National VP of Sales of the Year," said Rocky Cintron, Force 3 CEO. "This accomplishment speaks volumes of Mike's commitment to excellence at Force 3, and his efforts provide continued success for the company."
More than 1,000 entries from organizations of all sizes and in virtually every industry were submitted to this year's competition, an increase of almost 30% over 2011. Finalists were determined by the average scores of 93 professionals worldwide, acting as preliminary judges. Entries were considered in 27 categories for customer service professionals, including Contact Center of the Year, Award for Innovation in Customer Service, and Customer Service Department of the Year; 38 categories for sales professionals, ranging from Senior Sales Executive of the Year to Sales Training or Coaching Program of the Year to Sales Department of the Year of the Year; and categories to recognize new products and services and solution providers.
Details about the Stevie Awards for Sales & Customer Service and the list of Stevie winners in all categories are available at http://www.stevieawards.com/sales.
About Force 3
Force 3 is the trusted provider of Data Center, Communication and Collaboration, Borderless Networks and Cyber Security services for Federal agencies, Enterprise organizations and their key partners. With headquarters in Crofton, Md. and offices in Herndon, Va. and San Antonio, Texas, Force 3 has a 20-year history of delivering, supporting, and maintaining cost-effective IT products and services. At Force 3, we have a relentless focus on achieving our customers' end goal through innovation, unique solutions and highly trained, passionate people. Our dedication has resulted in being named one of Cisco's Top 5 Federal Gold Partners in America, as well as Federal Virtualization Partner of the Year in 2011. For more information, please visit http://www.force3.com.
About The Stevie Awards
Stevie Awards are conferred in four programs: The American Business Awards, The International Business Awards, the Stevie Awards for Women in Business, and the Stevie Awards for Sales & Customer Service. Honoring organizations of all types and sizes and the people behind them, the Stevies recognize outstanding performances in the workplace worldwide. Learn more about The Stevie Awards at http://www.stevieawards.com.
Sponsors and supporters of the 6th annual Stevie Awards for Sales & Customer Service include American Support, the Business TalkRadio Network, Coloredge Los Angeles * New York, Competence Call Center, SDL and ValueSelling Associates.