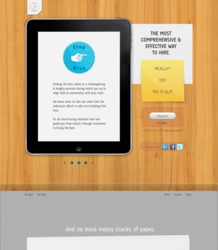 The application makes the process of finding, interviewing, and hiring talent a more effective and enjoyable experience.
Los Angeles, CA (PRWEB) March 21, 2012
FindHire just launched the beta version of their web-site in Los Angeles, and has already garnered initial success by securing relationships with two global media companies that adopted FindHire for their recruiting process. The interface is a welcome change to the legacy Applicant Tracking Systems (ATS), providing a very user-friendly experience to the recruiter. FindHire's mission is to make the job of hiring easier without sacrificing a personalized feel for the potential new employees.
FindHire is altering the business of recruiting and the way companies find and hire talent in a market that is becoming overly competitive. The application makes the process of finding, interviewing, and hiring talent a more effective and enjoyable experience, saving companies thousands of dollars in recruitment fees, and allowing recruiters to take the process mobile on their iPads.
"We really wanted to take a very outdated and old service business, and adapt it into a web-based interface that anyone could easily understand and be successful with right out of the gate," CEO and co-founder Michael Dennis said. Dennis came from the recruiting world where he worked for a top 10 boutique firm before starting his own search business, "I noticed the industry shifting away from big recruitment fees, even my more progressive technology clients didn't want to pay anymore. They were looking for a software solution that did the same thing I did for a lot less."
FindHire has taken the tedious task of sourcing talent and made it a fun process; adding different layers like "FindWords" to filter out all incoming resumes and creating badges to reflect recruiter's activity alongside a slick analytics page accessed from their custom recruiting dashboard. The resumes of all the candidates in the database are organized into easily searchable terms plus star ratings, and Human Resource professionals and recruiters can now quickly flip through resumes in a "Candidate Flow" very similar to the user experience iTunes does with album covers.
The web-­based version of FindHire's recruiting software is very easy to use and navigate to recruit candidates. Their service already boasts a database well into the thousands and has a continuous flow of filtered talent adding resumes and full color vivid job seeker profiles to the site on a daily basis. The user interface reflects the design trends of popular web 2.0 social sites, catering to the millennial generation with twitter and facebook feeds on the main page. FindHire has opened the door to transition away from older legacy Applicant Tracking Systems (ATS), and provide a solution where the next wave of employees in Human Resources and Agency recruiters can quickly learn and produce results. To add to their product's appeal FindHire's iPad application just launched on the Apple store and is available for download.