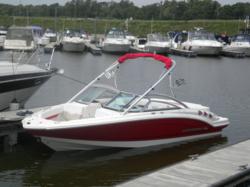 "We find people boat more when they are in the club," Linda Johnson of Quest Watersports said. "It is so easy and affordable. Boating truly becomes the pleasure pastime we all dream about."
Ottawa, IL (PRWEB) March 20, 2012
Everyone dreams about boating, but not everyone can see themselves taking the plunge into boat ownership. With Quest Watersports' boat club, Quest Express, members can get the best of both worlds — take boats on the water, without jumping into purchasing.
Quest Watersports, with its home port in Heritage Harbor Ottawa in Ottawa, Ill., launched the members-only Quest Express boat club in 2011. According to Linda Johnson, of Quest Watersports, the club was well-received as an alternative to boat ownership and is only expected to grow. Members enjoy the fact that they get the chance to test the waters of boat ownership with the perks of the Heritage Harbor resort community surrounding them.
"We studied membership boating-clubs in other parts of the United States to put our club together … and we're really the only one doing anything quite like this in Illinois," Johnson said of Quest's uniqueness.
Once members sign up for Quest Express and pay the annual enrollment fee, there is an online reservation system where they can log in, see all the boats available and make a reservation. The fleet includes anything from pontoons to sports boats, which opens the doors to a relaxing cruise, fishing, tubing or water skiing on the Illinois River through Starved Rock Country. Near the Ottawa Pool, there are side channels to discover, islands to explore and the free city of Ottawa docks for the chance to stop and take a downtown stroll or grab a bite.
Johnson explained that the ratio of boats to members helps ease any reservation issues and the whole process is very smooth from there. Each membership group — there are three — is allowed to have two rolling reservations on the calendar at a time and they can be made from two hours to 30 days in advance. There is no limit to how many times members can use boats, as long as they are available.
Those without boating experience don't have to be frightened away from the Quest Express boat club. While an initial boating orientation is scheduled for every member, further training is always available. When members make a reservation, all they have to do is show up in the harbor — their reserved boat will be in a Heritage Harbor slip waiting for them, along with a Quest Watersports employee to greet and assist them.
"If you've never driven a boat before, we'll make sure you feel very comfortable driving that boat," Johnson said of the orientation and training Quest provides. "We also encourage them to go right back out after they drop us off to try out their new skills."
To add to the no-hassle philosophy of the club, members — as opposed to boat owners — don't ever have to worry about routine maintenance or insurance. Quest Express has a club policy that covers liability. Not to mention there are no slip fees, extensive cleaning of the boats, winterizing or storage that members have to worry about. The only responsibility of members, aside from keeping the boat safe while in use, is to cover the cost of fuel when they use them.
"We find people boat more when they are in the club," Johnson said. "It is so easy and affordable. Boating truly becomes the pleasure pastime we all dream about."
She added that concierge services are even available if wanted. Quest employees can have a catered lunch or packed cooler ready in the boat. It just has to be requested ahead of time.
Another perk for Quest Express members is being able to take advantage of the Heritage Harbor Ottawa club amenities, such as a pool membership. After members are done with their time on the water, many continue their day or evening at the resort, Johnson said. The marina and Tracy's Boathouse, restaurant and bar, is usually abuzz with activity.
"The port of Heritage Harbor is just phenomenal. As a member of Quest Express, they are also a guest of the Harbor."
With packages starting as low as $300 per month, there is an affordable membership to fit everyone's lifestyle.
Quest Express yearly membership plans include the following:
Individual/Family Membership — allows up to two members from the same household to enjoy club privileges.
Buddy Membership — allows any two people to split and enjoy club privileges.
Executive Membership — entitles 2 individuals in a company or two buddies to enjoy club privileges on weekdays (excluding holidays).
To sign up for the Quest Express club, tour the marina, see the fleet or review the membership agreement, call Quest Watersports at 815-433-2200. Boat usage is from April 15 to Oct. 31.
For a list of Quest Express boat club frequently asked questions, click here.