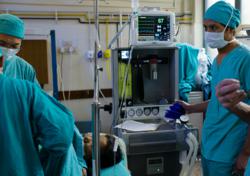 Across the developing world there are 77,000 operating theatres without pulse oximetry monitoring capacity.
New York, NY / London, UK (PRWEB) March 23, 2012
Gradian Health Systems LLC™ and the Lifebox Foundation, two non-profit organizations dedicated to saving lives through safer surgery, have partnered to improve perioperative care in low-resource hospitals that have inadequate anaesthesia and patient monitoring resources. Gradian is distributing the Lifebox pulse oximeter and education program, to all facilities using its Universal Anaesthesia Machine (UAM) in Nepal, Malawi, Nigeria and Sierra Leone.
Across the developing world there are 77,000 operating theatres without pulse oximetry monitoring capacity. Providing Lifebox oximeters will enable critical monitoring in the operating theatre, recovery room, intensive care unit and hospital wards, allowing safety throughout the perioperative period. The oximeter measures the level of oxygen in a patient's bloodstream and sounds an alarm if dangerously low levels are detected. The oximeter thus ensures that surgical patients will be effectively monitored to prevent hypoxia. The Lifebox oximeter was specially designed for use in low-resource settings.
The Universal Anaesthesia Machine delivers safe anaesthesia in any hospital, including those where inadequate resources, unreliable electricity and shortages of compressed medical gases preclude the use of conventional machines. It produces its oxygen, provides important safety features and is designed for easy field service.
Pauline Philip, CEO of Lifebox Foundation, remarks, "The use of oximetry is the international standard because it leads to a substantial reduction in death rates and clinical complications. We are grateful for Gradian's support of our newly launched 'Make it Zero" campaign. Their support will allow Lifebox to bring pulse oximeters, education and World Health Organization Surgical Safety Checklist to parts of the world that have had none, significantly improving their safety and patient outcomes."
"Providing Lifebox pulse oximeters extends our presence to the entire perioperative space," comments Stephen Rudy, CEO of Gradian Health Systems. "This partnership broadens our mission in resource-constrained hospitals where the Universal Anesthesia Machine is used to deliver safe anaesthesia. Our organizations share a common belief in technology, training and local expertise as the way to increase access to safe surgery."
About Gradian Health Systems
Gradian Health Systems equips hospitals to deliver anaesthesia safely and economically by providing technology, service and training. We design and build equipment used worldwide in hospitals ranging from world-renown academic centers to resource-constrained district facilities. Gradian is a social enterprise collaborating with partners in clinical medicine, national health systems, medical technology and philanthropy. For more information visit http://www.gradianhealth.org.
About Lifebox Foundation
The not-for-profit organization Lifebox Foundation, formed in April 2011, grew out of a global initiative to make surgery safer worldwide: the WHO Surgical Safety Checklist, which has been shown to reduce surgical complications and death by more than one third. Lifebox is working to make sure no patient dies simply because a pulse oximeter is not available during surgery. The group worked with international clinicians and manufacturers to develop the world's foremost low-cost, high-quality pulse oximeter compliant with all international standards. Each oximeter package costs $250 USD, including delivery, and also includes an educational CD with training materials for self-learning, and classroom programs to teach others about pulse oximetry and the World Health Organization Surgical Safety Checklist.
Lifebox is launching the Make It Zero campaign, a two-year initiative to put 5000 oximeters into operating rooms in low-resource settings. Please visit http://www.lifebox.org to make a donation.