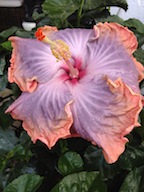 In step with Pantone Color Institute's popular Color of the Year, Tangerine Tango, the Tropic Escape Hibiscus come in shades such as 'Mandarin Mojito' or 'Tiki Temptation,' orangey hues that capture the spirit and passion of the tropics
Miami, FL (PRWEB) March 22, 2012
Consumers looking for an escape to a tropical paradise can find it this spring at retailers nationwide with the launch of Costa Farms' new Tropic Escape Hibiscus collection.
The new hibiscus collection from Costa Farms, the leading bedding and indoor houseplant grower in North America, includes 12 patented varieties that are easy to grow and bloom twice as long as traditional hibiscus.
"The oversized, showy flowers in the new Tropic Escape Hibiscus collection make an instant impact on patios, porches, poolside or in gardens this spring," says Jose Smith, president and CEO of Costa Farms. "The bold colors capture the romance of the tropics and create a sense of optimism that lifts your spirit."
Frilled, brightly colored blooms from 7 inches to 9 inches with ruffled, overlapping petals in hues of orange, red, yellow, pink and white will stop people in their tracks and enliven everyone's outlook this spring.
"In step with Pantone Color Institute's popular Color of the Year, Tangerine Tango, the Tropic Escape Hibiscus come in shades such as 'Mandarin Mojito' or 'Tiki Temptation,' orangey hues that capture the spirit and passion of the tropics," says Smith.
According to Smith, Costa Farms plans to add more patented varieties to the collection every spring, building the brand as a must have for hibiscus lovers.
All Tropic Escape Hibiscus are grown in sustainable coconut coir media and come with bold branded packaging, tags and QR code to make it easy for consumers to get care tips to create a tropical paradise in their own backyards.
Costa Farms'Tropic Escape Hibiscus collection is available at retail stores nationwide this spring.
About Costa Farms: Costa Farms is the largest producer of indoor houseplants in the world. Founded in 1961 by Jose Costa, Costa Farms is a third generation, family owned business that globally stretches over 3,500 acres and employs 2,800 people. Along with thriving indoor and bedding plant divisions, Costa Farms operates merchandising and transportation companies as part of its infrastructure, with operations domestically in South Florida and North Carolina, and abroad in the Dominican Republic, Costa Rica and Far East.