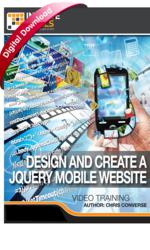 Learn How To Design and Create a JQuery Mobile Website
(PRWEB) March 20, 2012
InfiniteSkills Inc., a leader in the field of technology software training, has introduced a new JQuery Mobile Website Tutorial, providing a fast and easy introduction to creating websites on mobile platforms.
Built to work with a variety of platforms, JQuery Mobile allows the integration of web-based code with mobile platforms, making content function as seamlessly as native code. Its flexible framework also allows website designers to customize the user's mobile experience.
The InfiniteSkills JQuery Mobile Website Tutorial teaches the framework by guiding users through the creation of a basic mobile website, introducing essential JQuery design tasks such as creating and styling buttons and integrating functional lists and search fields.
JQuery Mobile Website Tutorial DVD - Video Training
Beginning with the basics of creating mobile-friendly HTML, the course covers the application of themes and using the ThemeRoller app, creating navigation and content, working with list filters, as well as learning the basics of customizing a JQuery mobile website using CSS.
Tutorial author Chris Converse is a design professional with 15 years of experience in translating print and graphic design into brilliant digital images. His experience in technology and design spans various forms of digital media from CD-ROMs and interactive DVDs to websites, including the latest wave of formats: mobile apps.
Chris Johns, content coordinator at InfiniteSkills, believes Converse has created the perfect tutorial for learning mobile web design. "Our goal with this video was to provide web admins and designers a quick and easy way to get their sites onto mobile platforms. JQuery Mobile is the perfect format, and this hands-on primer lets anyone with basic knowledge quickly get off the ground."
InfiniteSkills offers a unique, task-oriented approach to software training which allows users to intuitively grasp a range of skills as they follow a tutor through accomplishing specific tasks. The JQuery tutorial focuses on building a basic mobile web interface, introducing users to the basics, before elaborating on how to customize their JQuery sites.
InfiniteSkills offers the JQuery Mobile Website Tutorial at a retail price of USD $99.95. Customers can download the videos directly from the company website, or have them shipped on DVD-ROM. All InfiniteSkills formats are both Macintosh and Windows compatible, with included work files that correspond to the lessons presented by the author onscreen. International shipping is available.
A selection of demo videos and other information about the JQuery course is available on the InfiniteSkills website:
JQuery Mobile Website Training - Video Tutorials
About InfiniteSkills Inc
InfiniteSkills is an innovator in the field of technology software training. The firm's progressive approach teaches complex topics by focusing on task-oriented training.This allows users to intuitively grasp a wide range of skills they can seamlessly integrate into their daily workflow. With DVDs, digital downloads, and iPad editions of its training titles, the company delivers professional quality training to customers anywhere they want to learn.