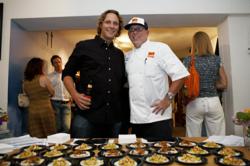 Hermosa Beach, California (PRWEB) March 19, 2012
From the natural sunlight pouring through the retro garage doors, illuminating the popping orange accent color, to the colorful ingredients and sauces tossed together, creating a flavorful menu, Hot's Kitchen always attracts an energetic crowd looking for an upbeat dining experience.
Complementing the energy of the restaurant, Bo Bridges brings life to the walls of Hot's Kitchen through his modern and vibrant photography installments. Through the use of funky angles and innovative lenses, Bo Bridges Photography provides guests with an artistic perspective while dining.
Similar to Chef Sean Chaney's concept of piecing together various small plates on the menu to create a complete savory meal, Bo Bridges Photography embodies a tapas-style approach by assembling a number of photographs to create one incredible work of art, connected by the theme of community. The back wall of Hot's Kitchen features an enormous collage of 200 images all framed as one custom piece, while the opposing wall presents an installation of scattered photographs, both capturing the family essence and casual-cool vibe of this beach community.
Chaney and Bridges have created a long- lasting friendship, making a sensational team as they collaborate to participate in many local charity events. The support they offer each other's businesses and their dedication to the community is encouraging for the residents and other local business owners in Hermosa.
Come experience Bo Bridges extraordinary photography alongside a sensational community dining experience at Hot's Kitchen, open everyday from 11am to 11pm at 844 Hermosa Avenue in Hermosa Beach.
To view the menu, visit http://hotskitchen.com/
For more information about Bo Bridges Photography, visit http://bobridges.com/ and stop by his studio at 1246 Hermosa Avenue.
For media inquiries, please contact Kelley Coughlan | Melrose PR | Kelley(at)melrosepr.com | (310) 570- 9970