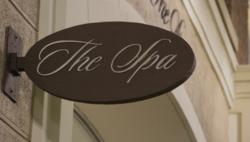 Customers can enjoy our hour-long Swedish massage for just $69 or our Spa Signature facial treatment for just $79 throughout the grand opening month," -Rita Shahin
Los Angeles, CA (PRWEB) March 21, 2012
Local day spa The Spa in Glendale will celebrate its grand re-opening at their new, location in Glendale, CA. Their new location at 161 Caruso, Glendale, 91210 is situated at the corner of S. Brand Blvd and Caruso, at the popular Americana at Brand shopping district.
Owners Rita Shahin and Victoria Hawatian expressed excitement for the new location's potential to both better serve their customers and showcase their spa services more strikingly.
"We're really happy with the new location," said Shahin. "It's a really spacious and warm interior and it's great to be at the Americana. It's always a really bustling part of town—nothing like a massage or something to take the stress out of shopping, right?"
Owners Shahin and Hawatian also went on to say that The Spa's new location features a wet room that will allow them to add new services such as body scrubs and body wraps to their already extensive massage, facial and waxing spa services.
Specials on the Spa's Signature Facial and Swedish Massage will also run throughout the grand re-opening month. Additionally, The Spa has plans to unveil three new services in the month following their grand reopening: body wraps, body scrubs and foot massage. All three services plan to incorporate the use of Eminence skin care products, a hand-made organic skin care line from Hungary.
"Customers can enjoy our hour-long Swedish massage for just $69 or our Spa Signature facial treatment for just $79 throughout the grand reopening month," said Shahin. "We're going to continue running those specials, at least throughout March, [2012]."
The Spa in Glendale is a full service day spa that offers facial treatments, a variety of massages in various styles, a full line of waxing services, permanent eyebrow application and sells skincare and beauty products to their customers in both an in-store boutique and online.
Specials offered for The Spa's grand reopening will be honored at least throughout the month of March, 2012.
For more information on The Spa in Glendale, visit their website at: http://www.thespainglendale.com/
For a full list of facial services provided at The Spa, visit: http://www.thespainglendale.com/spa-services
For a full list of massage services offered by The Spa, visit http://www.thespainglendale.com/spa-services/massage
To read what yelp users are saying, visit The Spa's yelp profile at: http://www.yelp.com/biz/the-spa-glendale