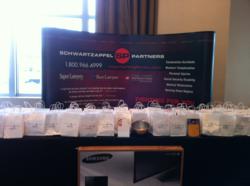 It is our hope that by providing a forum, many advances will be made for workers' rights.
Hollywood, FL (PRWEB) March 19, 2012
Over 100 labor leaders and their guests were in attendance at the Building & Construction Trades Council of Greater New York and Schwartzapfel Partners, personal injury lawyers, was proud to be a sponsor of this event. It was the first such annual event of its kind, a groundbreaking forum for labor leaders in the Greater New York area.
"It is our hope that by providing a forum, many advances will be made for workers' rights," said Steven Schwartzapfel, of Schwartzapfel Partners P.C. "It's important to support unions and union leaders because they help protect workers against unfair employer practices and make sure that the safety of their members comes first before employer profits."
The conference was held at The Westin Diplomat Resort in Hollywood, FL. Many of the conference registrants are decision-makers in their respective organizations and some even hold dual roles as union leaders and Taft-Hartley Benefit Fund Trustees. Schwartzapfel Partners P.C. was a proud sponsor of the event and was present for the entire conference.
"We're proud to sponsor a conference that tackles the important issue of safety in the workplace," Schwartzapfel added. "Everyone has a right to feel safe at their job. It's when safety measures fail that personal injury lawyers like myself need to step in and stand up for the working man."
About Schwartzapfel Partners P.C.
Schwartzapfel Partners P.C. is one of the most prominent and well respected plaintiff personal injury and litigation firms in New York. The firm has handled tens of thousands of cases and helped thousands of clients obtain the money and benefits they deserve. The firm's pledge is to make a difficult situation easier and the firm's lawyers are proud of a success rate of over 98%. Schwartzapfel Partners P.C. fights to protect the rights of those who cannot protect themselves.
The personal injury lawyers at Schwartzapfel Partners focus on all types of personal injury litigation, including vehicle accidents (bus, car, truck, motorcycle, bicycle and pedestrian) medical malpractice, wrongful death, defective products and drugs, construction accidents, workplace accidents, workers' compensation, Social Security disability, nursing home neglect and abuse, and complex highway design defect cases. To contact the law firm, call (800) 966-4999 or use the firm's online contact form.