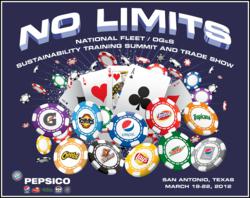 "Last year's trade show was a huge success for everyone involved and has led to many breakthrough relationships that continue to grow today," says Liz Newman, head of Corporate Development for One Stop Green.
Houston, Texas (PRWEB) March 19, 2012
One Stop Green will be attending the PepsiCo 2012 Sustainability Training Summit and Trade Show in San Antonio, Texas. Representatives will be networking and exhibiting various sustainable and energy efficient products and services from One Stop Green.
In attendance will be over 500 Pepsi, Frito Lay, Tropicana, Quaker and Gatorade managers including corporate executives and administrators along with over a hundred PepsiCo suppliers. PepsiCo is one of the largest food and drink companies in the world, and with such an enormous global footprint, the company seeks to improve its overall impact on the environment. PepsiCo has taken many steps to improve their sustainable practices and the PepsiCo 2012 Sustainability Training Summit and Trade Show is a way the corporation can bring many of its technicians, fleet managers, corporate executives, administrators, and independent bottlers together all in one place. One Stop Green is attending this year in order to connect with these influential members of their respective divisions to build relationships as well as promote sustainable practices and exemplify how One Stop Green's various lines of energy efficient products and services can help PepsiCo meet their sustainability goals.
As part of this conference, One Stop Green will meet the PepsiCo frontline decision makers and support teams to introduce products such as Ciralight's SuntTacker Daylight Harvesting Skylights, Caberra Systems Next Generation ActiveLED lights, Commercial Refrigeration Efficiency Technologies, as well as present various facility assessment services that One Stop Green offers through its sister company, Bovay Engineers International.
One Stop Green, LLC facilitates environmentally friendly improvements to residential and commercial properties through distribution of green, energy efficient products and services. They offer every product needed for sustainable energy independence enabling homeowners, businesses and commercial property owners to master their usage by reducing waste and implementing efficient energy consumption methods. Their goal is to provide user friendly and practical long-term solutions to existing inefficiencies and their carefully selected products and professional installers offer a higher level of satisfaction and service for their customers.
Contact:
Nathan Kaufman
http://www.OneStopGreen.com
P: 877.449.9110|O: 713.541.2739|C: 210-846-5900