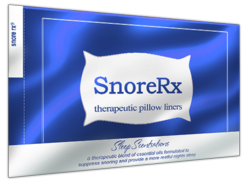 Clearwater, FL (PRWEB) March 20, 2012
In just one week, more than 50,000 snorers across America requested a free sample of SnoreRx, Sleep Scentsations' new non-invasive, all-natural pillow liners that help suppress snoring and provide a more restful night of sleep.
Infusion Brands (INBI.PK), a global consumer products company, offered consumers a free trial offer of its product through the SnoreRx website and received more than 50,000 requests within days. Each trial consumer received one SnoreRx pillow liner, which is good for three nights of snore­-free sleep.
"The phenomenal response we've gotten to SnoreRx is a testament to the demand that's out there for a non-invasive, totally natural solution to snoring," said Bob DeCecco, Chairman and CEO of Infusion Brands.
"We had originally intended to only offer the free trial for a couple of days," added DeCecco. "But when we saw the overwhelmingly positive response it was getting, we felt like we had to extend it."
The driving force behind this line of products is Sleep Scentsations' patented delivery system: soft-cushioned pillow liners infused with natural essential oils. SnoreRx liners are infused with a combination of eucalyptus, neroili, marjoram and other essential oils known to relieve snoring symptoms. As you sleep, SnoreRx naturally enhances the air you breathe, opening up your nasal passages and providing you - and your partner - with a better night's rest. Because it adheres under the pillow cover, it is the first all-natural, non-invasive solution for snoring suppression.
Each SnoreRx liner is high pressure-infused so it is completely dry, eliminating the mess associated with other essential oil products. SnoreRx doesn't require aggravating nose strips, unpleasant sprays or cumbersome mouthpieces. It's also hypoallergenic and safe for children.
SnoreRx has been through three years of rigorous product testing and has garnered proven market acceptance. Until recently, it has been sold and marketed exclusively to commercial partners like spas, hotels and hospitals. Infusion Brands is now bringing the product directly to consumers for the first time. SnoreRx can be purchased at getsnorerx.com.
About Infusion Brands International, Inc.
Infusion Brands holds the worldwide exclusive license to manufacture and sell Sleep Scentsations products, including SnoreRx. Infusion Brands International, Inc. (INBI.PK) is a global consumer products company that builds and markets brands, leveraging direct to consumer channels of distribution. With physical offices in North America, Europe and Asia, Infusion Brands has worldwide reach and capability. For more information, visit infusionbrands.com