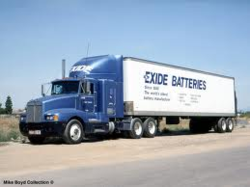 With diesel creeping above $4.25 a gallon, we cannot afford to operate with an antiquated logistics paradigm. We are so pleased with the support, financial modeling capabilities and versatility of the team from ORTEC that we can't wait to launch.
Atlanta, GA (PRWEB) March 22, 2012
ORTEC, creator of innovative logistics optimization software, and Exide Technologies, one of the world's largest producers, distributors and recyclers of lead-acid batteries, today announced that ORTEC will provide Exide with advanced routing and scheduling software. ORTEC's software will enable Exide to: gain real-time visibility; enhance customer service; and, reduce their carbon footprint via optimized routing to reduce miles and maintenance. The ORTEC mobile solution will provide dynamic routing and forecasting to help fleet managers and drivers meet established and emerging regulations.
Exide and ORTEC Share Devotion to Innovation
Exide Technologies, with operations in more than 80 countries and fiscal 2011 net sales of approximately $2.9 billion, is focused on making select research, development and engineering investments to meet customer-driven needs and create revenue growth opportunities. Selecting ORTEC as a partner in providing innovative routing and scheduling software supports this key strategy. ORTEC shares the same commitment to technological innovation and dedication to outstanding customer service. ORTEC's routing and scheduling software is functionally robust, scalable, highly configurable and will enable Exide to manage three primary challenges: automating its manual routing process, tracking driver performance and enhancing customer service.
"After an intense evaluation process, Exide chose ORTEC as our dynamic route optimizer for our fleet of over 250 trucks in North America," stated Jeff Barna, Vice President of Sales and Service, Exide Americas. "After operating static-route 'milk runs' for over 20 years, we realized a need to get into the 21st century by leveraging ORTEC. With diesel creeping above $4.25 a gallon, we cannot afford to operate with an antiquated logistics paradigm. We are so pleased with the support, financial modeling capabilities and versatility of the team from ORTEC that we literally can't wait to launch our program."
"We are excited to add Exide to our growing list of customers," stated Corne Aantjes, ORTEC's CEO of the Americas. "The battery technology market is changing rapidly and the growing demand for innovative, battery powered equipment requires a scalable and dynamic software platform for optimized distribution. Our partnership with Exide will provide this and at the same time ensure the more cost-effective supply chain and excellent, measurable customer service. It is a pleasure to work with companies where R&D and technology are an integral part of their strategy."
ORTEC's software solution achieves dynamic, cost-efficient transportation schedules. The ORTEC mobile solution ensures route compliance and will provide Exide with the ability to manage by exception with more dispatch and real-time capabilities. Optimizing routes will help Exide reduce overall transportation costs by minimizing fuel, repair, maintenance and labor costs. Notably, the ORTEC solution provides visibility to events as they occur, enabling real-time updates for events such as resource status and location, plan changes due to real-time occurrences and improved communications with resources in the field.
Compliance Safety Accountability (CSA) Update
(Source: The McCart Group)
Previously named CSA2010 (Comprehensive Safety Analysis 2010), CSA is a proactive initiative to improve the efficiency and effectiveness of FMCSA's enforcement and compliance program. Work on this program began in 2004 as an effort by the enforcement community to use resources wisely. Prior to CSA, only 2% (12,000) of all motor carriers could be reached for a compliance review. CSA allows for more contact with more motor carriers in real-time, with emphasis on those carriers who are exhibiting problems in safety. It works as follows:
•Uses all roadside inspection results and crash reports to identify safety deficiencies
•Employs a wider array of interventions tailored to problems instead of solely the time –intensive Compliance Review process
•Enables more carriers to be contacted earlier
•Requires sustained accountability of carriers and increases accountability of drivers
About ORTEC
ORTEC is a leading provider of strategic, tactical and operational route planning and scheduling, services planning, and pallet and load building software solutions. Our solutions and consulting services result in optimal route plans, real-time fleet scheduling and visibility, more efficiently built pallets and fuller truckloads. In addition, ORTEC solutions enable increased delivery forecasting accuracy and improved customer service. ORTEC provides best-of-breed, custom-made and SAP-embedded and certified solutions, supported by global strategic partnerships. In the area of advanced planning solutions, ORTEC has over 1,650 customers worldwide, over 550 employees and offices in Europe, North America, Asia and the Pacific Region. For more information about ORTEC visit http://www.ortec.com/us.