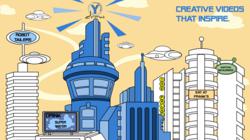 Our final product has drawn rave reviews from family, friends, clients and others in the advertising industry. We will soon be launching several marketing campaigns centered around our video.
Saint George, UT (PRWEB) March 20, 2012
Animated whiteboard videos released by Ydraw show amazing success with each new video. Ydraw has seen animated whiteboard videos provide companies with a:
Higher click through rate compared to previous marketing videos (more views)
Increased ROI (Return on Investment)
85% incease in sales
400% increase on views
For example, an animated whiteboard video released two weeks ago for one company on YouTube has now more than 20,000 views, compared to another marketing video that same company released at the same time with only 222 views. Video scribing works miracles. This is an example of an amazing increase on views compared to any other video marketing strategy on the market today.
Within even the first week of the release Ydraw's animated whiteboard video for this company, it blew away the viewing results of every other video this company ever had on YouTube, with a 400% increase on views. Remember, this was only within the first week. Imagine what a video scribing video created by Ydraw could do for another company in a just month's time.
Audiences are mesmerized by this new way of learning, a concept that stimulates the brain visually and mentally, coding the information to be received into one's long term memory successfully and differently.
Competition for these videos are rising, and companies are looking now for the best animated whiteboard video. Ydraw is the best animated whiteboard video company on the market today, and don't take their word for it, find out and get the best marketing video of all.