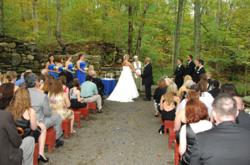 Canterbury, CT (PRWEB) March 21, 2012
In this historic New England town, located in the heart of northeastern Connecticut, farming has been a way of life for over three hundred years. Barns and stonewalls still dot the landscape, and "traffic" might mean encountering a tractor on the road. Yet the "Quiet Corner" of Connecticut has plenty of attractions for twenty-first century visitors.
Located half an hour from the glamor and excitement of Connecticut's casinos is the country elegance of Wrights Mill Farm, a 250-acre family farm that hosts special events and weddings throughout the year. The Farm recently relaunched its web site, http://www.wrightsmillfarm.com, and announced its 2012 calendar of events open to the public. On Easter Sunday, April 8, guests are invited to a traditional brunch from 11 a.m.-4 p.m., with an Easter egg hunt for kids at 1 p.m. Families can show their appreciation for Mom on Mother's Day, May 13, with a special brunch featuring live music and complimentary roses for every mother. Be sure to come back in the fall for Oktoberfest, a grand New England Thanksgiving feast, holiday brunch, and a New Year's Eve Gala. Complete menus and details are available online.
Wrights Mill Farm is also a perfect place to say, "I do" - beside a waterfall, under a covered bridge, or on the lush green lawn against the backdrop of autumn foliage. Couples and their guests can catch a horse-drawn carriage to celebrate in one of two ballrooms or at the outdoor pavilion. Wrights Mill Farm will cater to their taste and budget, offering music, delicious selections from an award-winning chef, flowers, decorations, and even bonfires and overnight camping for those who can't get enough of the outdoors. Theme parties are a specialty. Say newlyweds Mr. and Mrs. Ron Harding, "If you're looking for a location that is different from any other, then look no further… the flowers provided by the farm were exquisite… The food was scrumptious and tastefully elegant… The bonfire was a perfect ending to a day filled with warmth and love."
The Farm is also on Facebook at facebook.com/wrightsmillfarm.
Wrights Mill Farm is located at 65 Creasey Road, Canterbury, CT 06331. For more information, call 860-774-1455 or email info(at)wrightsmillfarm(dot)com.