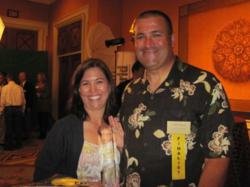 "We were delighted to be recognized for our commitment to safety," said Alisa Bennett. In the construction field we feel that safety must always be the first priority in everything that we do."
Bradenton, FL (PRWEB) March 21, 2012
Bennett Contracting, Inc., an excavation and utility contractor based in Bradenton, Florida, has been selected as the "Safety Award" winner among the 12 national finalist companies in attendance at the 2012 Contractor of the Year Program awarded by Equipment World Magazine in Las Vegas, NV, March 9 – 12, 2012.
Bennett was the only company selected and recognized for safety. Gregg Terry, Publisher of Equipment World Magazine, presented the Bennetts with the etched glass award and noted the company's low experience modifier score (.84) and innovative "B Safe" program which compromises on-going site inspections and reports from an outside Safety Consultant (David Simmons of Diversified Construction Safety), continued employee safety training and an intense focus on safety as it pertains to underground, utility and road construction.
The twelve finalist companies were selected from a group of more than 75,000 contractors. Each company honored as a finalist received an all-expenses paid trip to Las Vegas for two for the weekend's events, as well as beautiful plaque presented at an Awards banquet held at Caesar's Palace on March 10th. In addition, a visit by NASCAR Driver Jeff Burton of the No. 31 CATERPILLAR Racing Team was the highlight of a welcome reception on Friday evening. Attendees also received VIP treatment at the Las Vegas Motor Speedway during the NASCAR race on Sunday, March 11th.
The Bennetts were accompanied on their trip by their RingPower Caterpillar sales representative Mark Buter. Steve Cosper, of Granite Contracting in Concord, North Carolina, was the winner of the Contractor of the Year award for 2012. Granite Contracting and Bennett Contracting were the only two companies singled out for additional recognition among the 12 finalists.
The Contractor of the Year award program, which is sponsored by Caterpillar, was designed to showcase and celebrate contractors with revenues between $3 million and $15 million annually that have at least 10 years of construction company ownership experience, have a proven, excellent safety record, own at least five ride-on construction machines and are able to represent the construction industry in a positive way. In January Bennett team members were visited by Marcia Gruver Doyle, Editorial Director of Equipment World Magazine. A comprehensive profile of Bennett Contracting, Inc., written by Doyle will appear in the magazine sometime after May 2012.
Bennett Contracting, Inc. will celebrated 12 years in business on March 3, 2012. The company is a Class A licensed Florida General Contractor and Licensed Florida Underground Utility Contractor. Company President Jason Bennett also holds a Class V Underground Fire License from the State Division of Fire Marshal. The company does an average of $4 million in annual revenue. Bennett Contracting, Inc. completes most work as a site and utility subcontractor working on commercial projects for General Contractors; however a portion of the company's work is also executed as Prime Contractor for various municipalities including Sarasota County Government, Charlotte County Government, etc.
In response to the weakened economy which has resulted in a drastic decline in local construction projects company owners Jason and Alisa Bennett started a "spin-off" business last year. People at Play: The Heavy Equipment Experience offers individuals and groups the opportunity to harness the amazing power of big construction machines firsthand in a fun "construction themed" environment. The entire experience is themed like a day on a construction site, where participants "clock-in" and don hard hats and visibility vests. All "crew members" complete a safety and equipment orientation (in the job site trailer) prior to their time operating CAT excavators, skid steer loaders and bulldozers.
People at Play (the name takes its cue from the universally recognized 'Men at Work' construction signs) was an idea the Bennetts have been working on since 2007. More than 150 people have enjoyed their construction experience with People at Play and interest continues to grow for the unique concept which was featured on the NBC TODAY Show in July 2011. For more information please visit http://www.bennettcontractinginc.com and http://www.comeplayinthedirt.com.
###
For more information contact:
Marcia Gruver Doyle, Editorial Director,
Equipment World Magazine
mgruver(at)randallreilly(dot)com