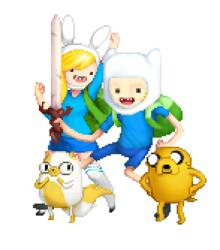 Creator Pendleton Ward will participate in an on-site chat on Thursday, March 22 at 6:00pm PST. For more information on how to participate in the chat, please visit http://www.gaiaonline.com/adventuretime
New York, NY and San Jose, CA (PRWEB) March 20, 2012
GaiaOnline.com, the world's most active online community of more than six million teens and young adults, announces today that an exclusive line of virtual clothes and accessories from Adventure Time, the breakout animated comedy series from Cartoon Network, will arrive on Gaia Online March 20. Gaia users and Adventure Time fans can trick out their avatars with exclusive virtual gear based on the show's adventures of Finn, his bud Jake and other popular characters from the Land of Ooo.
To support the launch and usher in the Adventure Time virtual gear, series creator – and voice of Lumpy Space Princess – Pendleton Ward will participate in an on-site chat on Thursday, March 22 at 6:00pm PST. For more information on how to participate in the chat, please visit http://www.gaiaonline.com/adventuretime
Gaia users will also get the opportunity to take part and enjoy in a variety of Adventure Time activities throughout the site, such as:

Kick off the Adventure Time fun with a Chance Item that lets users dress up their avatar in signature gear from the Adventure Time series, such as Finn's hat, Princess Bubblegum's hair, Fionna's hat and more
Enter and solve the Adventure Time-Gaia scavenger hunt to win limited edition virtual accessories
Take part in the Adventure Time-Gaia Trivia for weekly prize drawings starting March 26
Chat and meet other fans in the dedicated Adventure Time-Gaia Online forum
There is no limit to how many Gaia items can be purchased; players can even trade or sell Adventure Time gear with fellow players. New users who sign up to join GaiaOnline.com through the Adventure Time Gaia registration page will receive a free virtual Adventure Time logo t-shirt for their avatar. And, those that invite their friends to join can earn up to 5000 in Gaia Gold.
The Adventure Time virtual goods are available to the Gaia community thanks to a partnership with Cartoon Network Enterprises, the licensing and merchandising arm of Cartoon Network and meemo, a virtual goods licensing and technology company.
About Gaia Online
Founded in 2003, Gaia Online is the leading online hangout for teens and young adults. More than six million visitors come to Gaia Online every month to make friends, play games, watch movies in Gaia Cinemas, Gaia Online's virtual theaters, and participate in the world's most active online community. Gaia Online provides a fun, social environment that inspires individuality and creativity. With everything from art contests to discussion forums on poetry, politics, celebrities and more, to fully customizable profiles, digital characters and cars, Gaia Online is a place where teens can create their own space and express their individual style. For more information, visit http://www.gaiaonline.com.
About meemo
meemo, LLC is a licensing and technology company focused on the development, acquisition, distribution & marketing of "Entertainment-Branded" Virtual Goods. meemo has a strategic plan to dominate a well-defined segment of the Entertainment-Branded Virtual Goods & Virtual Worlds businesses by acquiring IP from companies in categories such as music, television, film, sports, animated brands and fashion as well as create unique selling and & promotion opportunities with its technology applications.
Please visit http://www.meemo.me for more info.
About Cartoon Network Enterprises
Cartoon Network Enterprises (CNE) is responsible for building consumer products and merchandising programs for a wide range of brands by securing and supporting long-term licensing partnerships across all categories. As the global branding and merchandising arm of Cartoon Network and Adult Swim, the division manages the consumer product programs for the networks' award-winning original programming, brands and characters including Ben 10, Generator Rex, Chowder, The Marvelous Misadventures of Flapjack, Adventure Time, Adult Swim and more. CNE also serves as the exclusive global licensing agent for the full portfolio of brands from Spin Master Ltd., as well as Nelvana Enterprises and Spin Master for the award-winning Bakugan brand and the PGA of America for the youth marketplace.
Cartoon Network (CartoonNetwork.com), currently seen in more than 99 million U.S. homes and 166 countries around the world, is Turner Broadcasting System, Inc.'s ad-supported cable service now available in HD offering the best in original, acquired and classic entertainment for youth and families. Nightly from 9 p.m. to 6 a.m. (ET, PT), Cartoon Network shares its channel space with Adult Swim, a late-night destination showcasing original and acquired animated and live-action series for young adults 18-34.
Turner Broadcasting System, Inc., a Time Warner company, creates and programs branded news, entertainment, animation and young adult media environments on television and other platforms for consumers around the world.