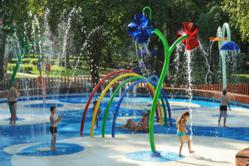 ...selecting the right WMS for your project can have a major impact to the lifecycle costs of your Splashpad...
Pointe-Claire, Quebec (PRWEB) March 21, 2012
Join Vortex for this webinar on Tuesday, March 27, 2012.
In this webinar, attendees will learn about the different types of Water Management Systems (WMS), and how selecting the right WMS for a project can have a major impact on the lifecycle costs of the Splashpad®.
Vortex will also cover:

Splashpad® benefits (community, environmental and owner)
Splashpad® total cost of ownership (TCO)
Generating revenue (project profiles & possible income scenarios for parks with Splashpads)
Date: Tuesday, March 27, 2012
Time: 11:30 a.m. - 12:30 p.m. EST
After registering attendees will receive a confirmation email containing information about joining the webinar.
About Vortex Aquatic Structures International
Vortex Aquatic Structures International, headquartered in Montreal, Canada, was established in 1995 with the introduction of the first Splashpad®. With over 4,500 installations worldwide and a global distribution network, Vortex is well positioned as an industry leader in aquatic playground and urban landscape solutions. In its ongoing effort to lead with inspiring designs, coupled with state-of-the-art engineering, water conservation solutions and use of the highest quality materials, Vortex continues to meet the demands of municipal and commercial recreation customers. The company remains committed to its mission of developing fun, safe and reliable products for families and children of all ages. For more information on Vortex Splashpad®, Poolplay™ and Spraypoint™ solutions, please visit our website at vortex-intl.com or call 1-877-5VORTEX.