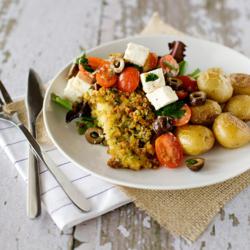 (PRWEB) March 20, 2012
REAL Butter has always had a place on the table, and now it has a new home online. The recently launched Go Bold With Butter blog follows a team of popular food bloggers as they explore the all-natural taste, texture and performance of butter in everyday recipes. Presented by America's Dairy Farmers®, the blog features a growing collection of recipes – a mix of sweet and savory dishes, focusing on fresh, seasonal ingredients enhanced by REAL butter.
Each contributor brings a different style and perspective, but they are all passionate about creating memorable dishes to share with their friends and families. The team includes:

Visit GoBoldWithButter.com to find their recipes, such as Deconstructed Chicken Kiev; Parsnip, Kale and White Bean Soup; and Double Chocolate Pie. Look for lots of great breakfast ideas in April, including some special recipes for Easter brunch.
Deconstructed Chicken Kiev
By Bree of Baked Bree
Ingredients:
1 1/2 pounds baby Yukon Gold potatoes
3 tablespoons olive oil
salt and pepper
4 slices of white bread
3 cloves garlic
1/4 cup fresh flat leaf parsley (plus 1-2 tablespoons for the salad)
1 stick (1/2 cup) butter, melted
4 chicken breasts, butterflied
1/2 pint cherry tomatoes
1/4 cup black olives
zest of one lemon
1/2 cup Feta Cheese
1 bag pre-washed arugula
Preheat oven to 400°F. Toss potatoes with olive oil, salt, and pepper. Roast for 20 to 25 minutes before adding chicken (follow next steps to prepare chicken before roasting).
Add the bread to a food processor. Pulse until it turns into crumbs. Take the breadcrumbs out, and set aside. Pulse the garlic and parsley until finely chopped. Add the breadcrumbs back, and pour in melted butter. Pulse again until it coats all of the breadcrumbs.
Press the bread mixture onto the chicken breasts. Put the chicken into the oven with the potatoes and bake until cooked through, about 15-20 minutes.
Meanwhile, halve the tomatoes, toss with olives, lemon zest, 1 tablespoon of olive oil, salt, pepper and parsley. Stir in Feta. Set aside.
Layer arugula on the bottom of the plate. Add the chicken breasts, top with tomato and feta salsa. Serve with roasted potatoes.
Double Chocolate Pie
By Taylor of Taylor Takes a Taste
Crust
1 1/2 cups graham cracker crumbs
2 tablespoons sugar
6 tablespoons butter, melted
Preheat oven to 350°F.
With a fork in a medium bowl, mix graham cracker crumbs and sugar together. Add melted butter. Stir until a thick paste is formed. Spread the mixture evenly in a 9-inch pie pan. Make sure an even layer is formed on the bottom and sides of the pan. Bake for 8 minutes. Let completely cool.
Chocolate Ganache Layer
2/3 cup heavy whipping cream
6 ounces bittersweet chocolate, chopped into small pieces
In a medium pot, bring the cream to a simmer. Remove from heat and add the chocolate pieces. Let stand for 1 minute. With a whisk, stir until the mixture is smooth and all of the chocolate is melted.
Pour ganache onto prepared graham cracker crust. Level out the chocolate layer and then place in the freezer for 20 minutes, until chocolate is firm.
German Chocolate Cream Layer
1 3/4 cups whipping cream (1/2 cup at room temp, 1 1/4 cups very cold)
4 ounces German chocolate, chopped in small pieces
1/2 teaspoon vanilla extract
1/2 cup powdered sugar
In a medium size pot, bring 1/2 cup of room temperature cream to a simmer. Remove from heat and add chocolate. Let stand for 1 minute. With a whisk, stir until all chocolate pieces have melted. Let cool to room temperature.
In a chilled mixing bowl, begin whipping 1 1/4 cups cold whipping cream. Add vanilla and slowly add sugar. Whip until thick and fluffy. Add room temperature chocolate mixture. Whip until soft peaks have formed.
Pour mixture onto ganache layer. Spread evenly over ganache surface, going right up to the edges of the pie pan. Chill in refrigerator overnight.
Whipped Cream Topping
1 cup heavy whipping cream
1/2 teaspoon vanilla
1/3 – 1/2 cup powdered sugar (depending on taste)
In a cold mixing bowl, add the cream and vanilla. Begin mixing and slowly add the powdered sugar. Mix until soft peaks have formed. Spread whipped cream over the German chocolate layer of the pie. Let pie set up in the freezer for 20 minutes prior to serving.