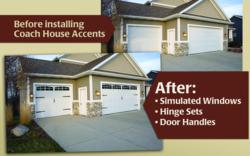 Partnering with Coach House Accents complements our full line of garage door products," said Vickie Lents, Director of Marketing.
Grand Rapids, Mich. (PRWEB) March 21, 2012
LACKS Home Products announces a new strategic sales relationship with its Coach House Accents line of garage door accents and Amarr Garage Doors, a leading designer, manufacturer and distributor of door access systems. Amarr's network of over 3,000 independent garage door dealers will now offer the complete line of Coach House Accents' decorative garage door accessories, including handles, hinges and simulated décor windows.
"Partnering with Coach House Accents complements our full line of garage door products," said Vickie Lents, Director of Marketing at Amarr. "We can now offer our customers more than one option for enhancing curb appeal and achieving the authentic carriage house look that they desire."
Coach House Accents' unique line of Signature Décor Windows provides the cosmetic look of real windows simply and affordably without reducing the insulation properties or safety provided by the garage door. Available in three colors, the decorative window frames can also be painted to match or complement customers' current or new garage door. The durable and attractive Hinge and Handle Sets complete the look, enhancing a home's curb appeal for a Coach House Accents "Garage Door Make-Over."
Coach House Accents can enhance almost any garage door. Offering these decorative accessories creates another opportunity for Amarr's dealers to please their customers. These accents are designed for customers to install themselves or for an Amarr dealer to install.
Customers can find their nearest Amarr garage door dealers and installers by clicking on the Amarr Dealer Locator tool button found on the Coach House Accents website (http://www.coachhouseaccents.com).
About Lacks Home Products:
LACKS Home Products, LLC, is headquartered in Grand Rapids, Michigan and is backed by nearly 50 years in the successful development products for the automotive industry. The parent company, LACKS Enterprises, Inc., has been privately held and family owned since 1961. LACKS operates 17 injection molding, electroplating, painting and assembly facilities in West Michigan and South Carolina and employs over 2,000 people. Coach House Accents was introduced to the marketplace in Spring of 2010. By incorporating their strength in manufacturing and finishing, Coach House Accents is committed to becoming a leader in providing products for the home exterior market.
About Amarr Garage Doors:
Amarr Garage Doors is the largest privately held U.S. manufacturer and distributor of residential and commercial garage doors. Amarr also distributes garage door openers, garage flooring and garage screens. Established in 1951 by the Brenner family in Winston-Salem, NC, Amarr has grown to more than 1,000 team members, operating two plants, and 71 Door Centers in the United States, Mexico and Canada. More than 3,000 independent dealers, distributors and leading retailers sell Amarr doors worldwide for the new construction and replacement markets.
For more information on Amarr Garage Doors, please visit http://www.amarr.com or call 1-800-503-DOOR (3667).