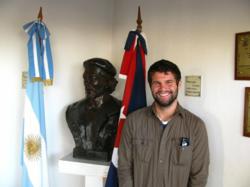 (PRWEB) March 21, 2012
John W. Haverty Jr. from Marion, Massachusetts will be honored at the 28th Annual L. Ron Hubbard Achievement awards being held on Sunday, 15 April, 2012 at the Wilshire Ebell Theatre in Los Angeles. The event will celebrate the twenty four annual winners in the L. Ron Hubbard Writers and Illustrators of the Future Contests, where John was an illustrator winner. His art will also be published in the bestselling Science Fiction/Fantasy anthology series – L. Ron Hubbard Presents Writers of the Future Volume XXVIII.
John was born in Boston, Massachusetts, grew up in Marion and also travelled through thirty-four countries on five continents before his twenty-third birthday. He states that these experiences abroad helped shape and influence the diverse body of work that he currently illustrates and paints.
John will fly to Los Angeles and participate in a week long workshop taught by the contest blue ribbon panel of judges lead by Cliff Nielsen (Chronicles of Narnia), Gary Meyer (Star Wars concept art), Vincent DiFate (NASA artist) to name a few. The workshop is then followed by the gala awards ceremony at the end of the week.
The Contests were initiated by L. Ron Hubbard in 1983 shortly after returning to the field of science fiction with his bestseller Battlefield Earth.
For more information on the contest, go to http://www.writersofthefuture.com.