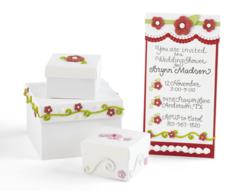 Clifton, N.J. (PRWEB) March 20, 2012
Since cake is often the best part of the party, why save it for last. Jolee's Boutique confections collection lets you add mouth-watering color and detail to invitations, favors, table cards, thank-you notes and more!
The dimensional embellishments look like sugary piped icing, fondant and other dessert decorations. Inspired by popular cake decorating television shows, crafters can use the Confections collection to create their own decadent projects. The delightful assortment includes customary cake themes such as wedding, baby and birthday—making them perfect for showers and parties—as well embellishments for more general crafts.
Made of a soft, non-edible ceramic material, these decorative adhesives are flexible, making it easy to embellish even the most challenging designs. Capture the essence and memories after the event with coordinating details in scrapbooking and paper-crafting projects to remember forever.
All products are available this month at Michaels, A.C. Moore and eksuccessbrands.com/jolees, and retail for $5.49 to $6.59 Please contact misty.huber@kandcompany.com for more information, high-res images and samples.
About Jolee's Boutique stickers
Jolee's Boutique stickers are intricately crafted dimensional embellishments that evoke popular pastimes, sentiments, celebrations and memories. Designs are crafted by hand (is this true of the entire line of stickers?) using mixed materials and various treatments.
About EKSuccess Brands
Established in 1978, EKSuccess Brands is one of the country's leading creative consumer products companies. Its diversified portfolio includes more than 10,000 inspirational and creative products covering paper crafting, needle crafting, stamping, jewelry making, kids' crafts, painting and more. Popular brands include K&Company™, Inkadinkado®, Dimensions®, Jolee's Boutique®, Sticko®, Perler™, Martha Stewart Crafts™, and American Girl Crafts®. EKSuccess Brands is a division of Wilton Brands Inc. For more details visit http://www.eksuccessbrands.com. Dream. Make. Celebrate™.