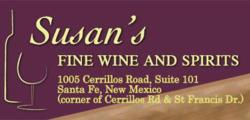 Santa Fe, New Mexico (PRWEB) March 19, 2012
Santa Fe is the benefactor of good news due to the fact that Susan's Fine Wine and Spirits has made the move to a larger space in the same building at the corner of Cerrillos Road and St. Francis Drive. A fixture on the SantaFe.com business guide, the company gains the benefit of being at the corner of the building at the Santa Fe street intersection that has the highest daily traffic volume in the city with 111,000 cars per day, according to the City of Santa Fe's 2008 traffic volume report to the Santa Fe Metropolitan Organization.
The corner building space the company moved into has ten large windows facing the street that are visible from virtually every direction at the Cerrillos Road and St Francis Drive intersection, giving the business quite likely the most visibility of any location in town. At their new location, the company might be the only business in town that is at a place almost every Santa Fe tourist has to drive by to get where they are going, which most likely is downtown Santa Fe to see the sites like the Plaza, the 400-year-old Palace of the Governors and museums and to visit the many restaurants the city has to offer.
About Susan's Fine Wine and Spirits:
Susan's Fine Wine and Spirits offers a complete line of some 1,200 types of wines, 450 different kinds of beers and a wide variety of fine liquors. The company also now has a wine tasting bar that gives wine connoisseurs the opportunity to taste a wine they are interested in before making their purchase.
Contact Information:
Susan's Fine Wine and Spirits
1005 St Francis Dr. Suite 101
Santa Fe, NM 87501
Phone: (505) 984-1582
About SantaFe.com
SantaFe.com provides Santa Fe and visitors to Santa Fe alike the most current interactive platform for events, music, arts, business, dining, and lifestyle. SantaFe.com is a division of Hutton Broadcasting, located at 2502 C. Camino Entrada, Santa Fe, NM 87507
Contact Information:
Scott Hutton
SantaFe.com / Hutton Broadcasting
(505) 471-1067 (Media inquiries only, please)