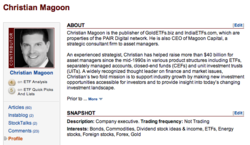 I look forward to providing more ETF insight in the future.
Chicago, IL (PRWEB) March 20, 2012
ETF expert Christian Magoon has eclipsed 100,000 page views for articles published on leading investment site Seeking Alpha. Magoon focuses his insights on the growing ETF space with a special emphasis on gold ETF and India ETF products. Currently Christian Magoon ranks in the top five in two ETF categories on Seeking Alpha, ETF Analysis and ETF Quick Picks. Magoon began regularly contributing to the site at the beginning of 2012.
"Seeking Alpha is a tremendous platform for investors to gather investment insight," said Christian Magoon, CEO of Magoon Capital. "I enjoy contributing to it and regularly gain insight from it. My goal as a contributor is to highlight the benefits and opportunities found in the fast growing ETF space. I look forward to more opportunities in the future to highlight the efficiency, transparency and flexibility that the majority of ETFs provide."
Magoon is also the Publisher of ETF focused sites, GoldETFs.biz and IndiaETFs.com. These sites are designed to provide investors with all the relevant market segment information within two clicks. From a comprehensive ETF list, to ETF performance tables and real time Twitter comments on the market segments from around the web, the sites offer unmatched convenience and consistency.
About Christian Magoon
Christian Magoon is CEO of Magoon Capital and Publisher of GoldETFs.biz and IndiaETFs.com. He is an ETF industry insider, having launched over 40 ETFs to date. A widely recognized thought leader on finance and market issues, Christian's two fold mission is to support industry growth by making new investment opportunities accessible for investors and to provide insight into today's changing investment landscape.
About Magoon Capital
Magoon Capital is a firm designed to provide strategic insight and initiate business development within the financial industry. PAIR Digital, a division of Magoon Capital, was founded in early 2011 to pair investors with the investment knowledge they seek. PAIR Digital properties include, GoldETFs.biz and IndiaETFs.com which launched via website, Twitter, Google+, YouTube and Facebook in the fall of 2011.