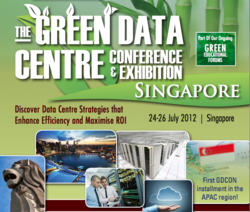 Great conference. Good mix of information from technology to strategy.
San Diego, CA (PRWEB) March 20, 2012
GSMI is proud to present the Green Data Center Conference and Exhibition. GDCON will be holding it's inaugural APAC installment 24-26 July 2012. The Green Data Center Conference now in its 4th consecutive year has emerged as the leading data center efficiency conference available.
The Green Data Center Conference and Exhibition seeks to provide strategic information for data center professionals looking to optimize their facility through cutting edge building and design trends. Industry experts, interactive workshops and case study presentations will be used to demonstrate the cost saving benefits of "greening" your facility. A full scope of data center topics will be covered, from retrofitting existing technologies to building a next generation facility from the ground up. Attendees will be provided with actionable solutions that will drive the ROI on their infrastructure investment.
Conference highlights and topics covered include:

Maximize power and cooling efficiency
Efficiency impact of virtualization and cloud computing
Green data center management: Metering and metrics
DCIM and operational strategies
First APAC installment!
GDCON Singapore will highlight some of the most innovative facilities and greenest organizations worldwide. We keep the focus on educating end users through peer-to-peer interaction and industry analysis. For more information including a full speaker lineup and conference agenda please visit GDCON online at http://www.greendatacenterconference.com.
About GSMI:
GSMI is a leader in the industry of executive education, creating conferences, summits, workshops and training sessions that combine rich learning environments with the opportunity to network with today's most relevant thought- leaders, speakers and practitioners. GSMI's annual events have reached 70% of the Fortune 500 companies, in over 30 countries, and cover topics that today's leaders find most challenging and inspiring. More information about Global Strategic Management Institute and the Green Data Centre Conference can be found at: http://www.gsmiweb.com