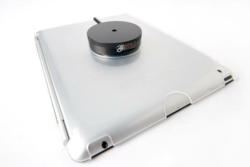 The vast use of tablets in our life and work requires creative solutions for integrating devices such as the iPad into various environments. The Connect Lite offers the most versatile solution for professional and personal use.
Scottsdale, AZ (PRWEB) March 21, 2012
Tether Tools, creator of integrated technology workstations, introduces the Connect Lite for the Wallee iPad Modular System. The Connect Lite offers unlimited options for mounting the Apple iPad just about anywhere.
As Apple Inc. and application developers offer more ways to integrate the iPad into daily work, life and play, users are demanding more convenient ways to mount the iPad. The incorporation of iPad is limitless for enhancing creative professionals' integration of new technology and the Connect Lite enables positioning of the iPad just about anywhere.
Outfitted with the exclusive Wallee locking-X as well as dual ¼"-20 threads – one on the center back of the disk and one on the outer edge – the Connect Lite offers hundreds of configurations for mounting your tablet. Connect it to any ¼"-20 tripod, arm, suction cup, EasyGrip mount, and many other versatile clamps, to easily attach the iPad to just about any object or surface. This creates ease in taking photos, viewing of images, using as a teleprompter and incorporating animation and editing applications, as well as for checking email, watching media, gaming, and hundreds of other uses for the iPad.
The device features an Easy Rotation Handle for attaching or removing the Connect Lite from the Wallee case. Once locked into position, the handle easily unscrews to expose the additional ¼"-20 receptor for attaching accessories.
Product Specifications:

Made of T6 Aerospace Aluminum
Dual 1/4"-20 receptor on center back of bracket and outer edge
Lightweight at only 5.8oz/0.16kg
Shipping dimensions 2.5" x 2.5" x 5"
Integrates with Wallee iPad 1 or iPad 2 Cases, sold separately (new iPad 3 cases will be available late spring)
The Connect Lite is available at http://www.TetherTools.com and photography and film retailers throughout the world.
About Tether Tools
Tether Tools® is a design and manufacturing company providing custom photography support equipment and accessories for building integrated workstations. Tether Tools is committed to providing the highest-quality solutions for professional and enthusiast photographers, filmmakers and creative professionals.
Photos and logo can be found at http://www.TetherTools.com/media-kit.