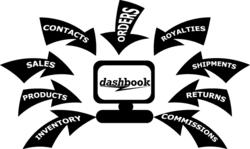 Royalty companies can go from double-entry to zero-entry!
HOUSTON, Texas (PRWEB) March 21, 2012
Version 5 of DashBook royalty accounting software from Financial Softworks, LLC is now available. New features in DashBook Royalty Pro version 5 help entrepreneurs save time managing the royalties that they pay so they can focus on running their business.
For businesses keeping full accounting using QuickBooks, DashBook version 5 now has an optional QuickBooks integration module. Since DashBook can already import sales from many book and music distributor and vendor reports, the ability to upload DashBook orders directly into QuickBooks invoices royalty companies can go from double-entry to zero-entry, saving time as well as reducing mistakes.
Since DashBook's forte is to make the accounting of royalties easy, DashBook version 5 has introduced a method of grouping multiple products so that cross-collateral summations for a royalty holder are no longer all or nothing. Now a title can encompass multiple products so that royalty payments, including advances, can be designated at the title level making it easy to account for digital and physical forms of a title on the same contract.
More time-saving enhancements include the new ability to download and import sales files directly from vendor websites, uploading of reports to internet folders shared with royalty holders, and faster import and calculation speeds. DashBook version 5 contains many more improvements with thanks to customers for valuable feedback.
Pricing and Availability
DashBook Royalty Pro is available now directly from Financial Softworks by visiting http://www.DashBook.com, starting at $499 for a single-user system.
About Financial Softworks, LLC
Financial Softworks, LLC is a leading supplier of royalty accounting software for small and mid-sized businesses, with special emphasis on book publishers, record labels, and music publishers and distributors.
Founded in 2003, Financial Softworks is a privately held software company based in Houston, Texas.