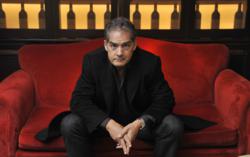 St. Louis, MO (PRWEB) March 28, 2012
The St. Louis County Library Foundation and Left Bank Books are pleased to present acclaimed British suspense author Philip Kerr for a discussion and signing of his latest thriller "Prague Fatale" on Tuesday, April 24, at 7:00 p.m. at Library Headquarters, 1640 S. Lindbergh Blvd.
The program is free and open to the public. Books will be available for purchase at the event from Left Bank Books.
Often compared to John le Carre and Raymond Chandler, Philip Kerr has attracted international acclaim for his historical suspense series featuring German detective Bernie Gunther. In "Prague Fatale," Gunther must solve the perfect locked-room mystery during a dinner party hosted by the Third Reich.
It is autumn, 1941, and Gunther is back from the carnage of the eastern front, still wrapped in his Berliner cynicism. He is back working homicide at Kripo—but this is now the Kripo taken hostage by the Nazis, and, in 1941, it answers to Reinhard Heydrich. Bernie Gunther is now unhappily working for a man he both fears and hates.
To celebrate his new position as Reichsprotector, Heydrich has invited a carefully chosen assortment of high-ranking Party members for a weekend gathering. But it soon becomes clear to Gunther that these men loath one another and each has the personal backing of a member of Hitler's High Command. With such an odious collection of egos clustered in one place, Gunther senses that it will be the weekend from hell, and before the first night ends, a young adjutant is found dead in his bedroom, the door and windows bolted shut from the inside.
"Prague Fatale" is a political thriller. A coiling tale of spies, partisans, terrorists, and torturers; it is also a chilling journey into the twisted psyches of the men who willingly carried out the orders of Hitler. It represents Philip Kerr at his best, performing sleights of hand that blindside us again and again, until the story's stunning climax.
Philip Kerr is the author of more than 20 books, including seven Bernie Gunther novels. In 2009, he won the British Crime Writers' Association Ellis Peters Historical Fiction Award and Spain's RBA International Prize for Crime Writing for his Bernie Gunther series. His most recent book "Field Gray" was a New York Times bestseller, a Publisher's Weekly Best Book of 2011, and is currently nominated for the Edgar Award for Best Novel of 2011.
Program sites are accessible. Upon two weeks notice, accommodations will be made
for persons with disabilities. Contact St. Louis County Library by phone 314-994-3300 or visit http://www.slcl.org.