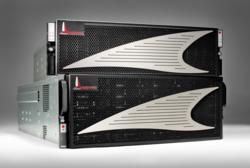 "One of our criteria for a new storage solution was minimal administrative burden, and the Starboard Storage AC72 met that criteria by supporting both block and file data with a single system and single administrative interface."
Broomfield, CO (PRWEB) March 20, 2012
Starboard Storage Systems, an innovator in Application-Crafted Storage™ for mixed workloads, today announced that the Large Binocular Telescope Observatory (LBTO), in association with the University of Arizona, has deployed over 100TBs of capacity behind two Starboard AC72 Storage Systems for science data products associated with the world's most powerful telescope.
The Department of Astronomy and Steward Observatory at the University of Arizona own a quarter of the observation time at the Large Binocular Telescope Observatory (LBTO), a collaborative effort that includes numerous astronomy and academic institutions from Italy, Germany, and the United States. The LBTO, a multiple decade project, took its first celestial images using its twin side-by-side, primary mirrors together, achieving first "binocular" light, in 2008. The Large Binocular Telescope is able to perform detailed analysis of dim, distant sources identifying even the faintest objects and movement patterns billions of light-years away. Since its completion, the Large Binocular Telescope has continued to capture increasing amounts of spatial imaging for analysis.
LBTO recently discovered that its current storage infrastructure could no longer support its high capacity, high performance demands. "When we calculated our existing data volumes and growth rates, we realized that our current system could not keep up," said Norm Cushing, software manager and scientist at LBTO. "We needed a new solution that would give us the capacity and performance needed today, while helping us to grow incrementally over the next seven years."
LBTO installed two Starboard AC72 Storage Systems, deploying a 65TB system at the Observatory and 42TBs on a second system in Tucson. With its SSD Accelerator Tier, the Starboard AC72 Storage Systems helped LBTO manage block and file-level data in a consistent, high-performance manner. "We have two sites separated by 100 miles and four hours driving time, and only two administrators," said Cushing. "One of our criteria for a new storage solution was minimal administrative burden, and the Starboard Storage AC72 met that criteria by supporting both block and file data with a single system and single administrative interface."
"In our testing, the Starboard Storage system met the requirements we had spelled out for performance, ease of use and price," said Cushing. "Its flexible management and robust feature set allowed us to solve our immediate needs while establishing a framework to address future, system-wide requirements."
The AC72 Storage System, with its innovative MAST Architecture, is designed to dramatically simplify managing mixed workload environments that include unstructured, virtualized, and structured data. The AC72 utilizes an SSD Accelerator Tier to deliver twice the performance at half the cost of legacy SAN and NAS systems. For more information contact sales@starboardstorage.com.
About Starboard Storage Systems:
Starboard Storage Systems is the innovator in Application-Crafted Storage™ systems for mixed workloads. Starboard Storage tackles the toughest storage problem facing small and medium enterprise (SME) IT administrators today — managing mixed storage workloads that include unstructured, virtualized, and structured data. Starboard's AC72 Storage System delivers on the promise of sophisticated yet easy-to-manage storage for mixed workload environments. Starboard's MAST architecture changes the price/performance equation relative to today's SAN and NAS offerings. http://www.starboardstorage.com
###